Lifting Magnet Test System provides on-site testing.
Press Release Summary: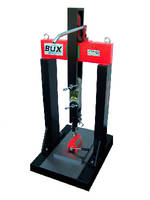 Approximately 6 ft tall, Mobile Test Rig is used for testing and certifying actual pull test of any magnet with lift capacity up to 17,600 lb. System utilizes strain gauge to measure breakaway force of magnet, and can be moved around and used outdoors since neither power nor electricity are required. Additional model is available for customers that want to test multiple magnets and have need for automated testing.
---
Original Press Release:

Walker Puts Magnets to the Test



Worcester, MA, October 22, 2009 - Walker Magnetics, the world leader in the design and manufacture of magnetic products for light and heavy industry, introduces the Mobile Test Rig for onsite testing of lifting magnets.

Walker Magnetics Mobile Test Rig is a compact test stand (approximately 6 feet tall) used for testing and certifying the actual pull test of any magnet up to 8000 kg (17,600 lbs) lift capacity. ANSI (American National Safety Institute) recommends magnets are tested on a regular basis.

Walker Magnetics is the number one magnet supplier in the world and the only company that tests 100% of their magnets before they leave the factory. The Mobile Test Rig was developed in response to customers who want to ensure their magnets are working to the same safety standards as they did before they left the factory. Walker Magnetics Mobile Test Rig is ideal for shops with multiple lifting magnets that want to make sure their magnets are operating to their design specifications. Distributors who want to offer the testing service to their customers can also use it.

Simply activating a hand pump can operate the Mobile Test Rig. The magnet is pulled off the base plate in a controlled manner. The breakaway force of the magnet is measured by a strain gauge with a simple read out. This tells you the magnet's breakaway capacity.

Walker Magnetics Mobile Test Rig offers enormous flexibility. Now lifting magnets can be checked at any time and at any place. Not having to send magnets away for recertification saves time and reduces cost. If a magnet needs to be serviced, minor repairs can be done right away. It's compact, easy to move around, and it can even be used outdoors because neither power nor electricity is required.

Walker Magnetics also offers an additional model for customers who want to test multiple magnets and have a need for automated testing. This model is designed to tie into a computer, so you get a printout on your system of the serial number and pull test results on the magnet tested.

For more information on the Mobile Test Rig, contact WALKER MAGNETICS, 20 Rockdale Street, Worcester, MA 01606, call John Knight at 1-508-853-3232, email jknight@walkermagnet.com. Or visit www.walkermagnet.com/news.

About Walker Magnetics Group

Walker Magnetics Group, Inc., a privately owned company, is the largest company in the world providing custom design and manufacture of magnetic products for workholding, material handling and separation applications. Founded in 1896 in Worcester, Massachusetts by Oakley S. Walker, the inventor of the electromagnetic chuck, the company has grown from a manufacturer of one primary product, the electromagnetic chuck, to a global concern. Walker Magnetics Group designs and manufactures a wide range of permanent, electromagnetic and electro-permanent magnet products and systems for industrial applications. Headquartered where it all began in Worcester, Massachusetts, Walker Magnetics Group's reach is international-and growing with manufacturing, research and development capabilities in North America, Europe and Asia. The company delivers its diverse product line to over 190 countries worldwide. Visit Walker Magnetics Group at www.walkermagnet.com.

Related