Lifting Gear Hire expands Modular Lifting System Stock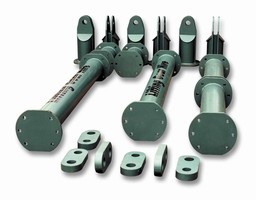 August 1st, 2008 - Bridgeview, IL - Lifting Gear Hire Corporation announces the expansion of the Modulift lifting beam system, a portable, lightweight system designed for easy one-man assembly with the ability to lift a capacity of up to 700 tons. The modular lifting beam system consists of a range of spreader beams that offer a modular span capability. Spans are accommodated by adding struts in increments, with the largest capacity at 700 tons with a 28 foot span.

"In the last six months, we've added over 200 modular lifting beams to our rental fleet to accommodate the ever growing need for new and innovative lifting techniques," said Tony Fiscelli, General Manager of Bridgeview, IL based Lifting Gear Hire. "The modular lifting system has proven its effectiveness and as a result, our customers continue to come to us with increasing demand for this system. The increase in stock is a direct reflection of it."

Modulift models available for rental at Lifting Gear Hire Corporation include the Modulift 24, 50, 110, 110H, 400/250, 400/300, 400/600 and 400/700. Specification sheets can be viewed from our online catalog at www.lgh-usa.com

LGH stocks over 80,000 pieces of lifting equipment available for rental through its worldwide locations, which encompass The United States, Holland and Germany. They also carry numerous hoisting products for rental or sale such as come-a-longs, clamps, man baskets and barrier grabs.


More from Chemicals & Gases