Lifting Cylinder integrates necessary function in compact case.
Press Release Summary: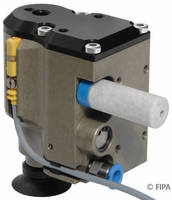 Powered by compressed-air, lifting cylinder with integrated vacuum generation combines multiple functions to solve challenges in pick and place application. In 160 cm², design offers all components necessary for dynamic stacking and de-stacking of flat or porous pieces. Switching compressed air supply on/off to lifting cylinder controls workflow, and blow-off pulse accelerates placing of pieces. Cylinder works independent of stack height, and piston stops upon contact with work piece.
---
Original Press Release:

Lifting Cylinder Powered by Compressed Air: All Functions in a Compact Case



Simple, integrated design weighing only 220 g / For use in temperatures from 40 to 175° F

With its lifting cylinder powered by compressed-air, FIPA has expanded its product range with a vacuum component, which combines many functions in its compact form and is used in separating paper, veneers, plastic sheets, name plates, checks or business cards, among other things.

The new lifting cylinder with integrated vacuum generation from FIPA may help solve some special challenges in your pick and place application. The new cylinder contains all components in a space of approximately only 160 cm2 for dynamic stacking and de-stacking of flat or porous pieces using compressed air.

Integrated design saves space and money
"We have the right solution for several of our customers' requirements needing a lifting cylinder powered by compressed air," according to FIPA President and Owner Rainer Mehrer. This is a practical solution, which only requires little space thanks to optimum coordination of individual components and is extremely light weighing with only 220 g. This allows for quick mounting and a reduction in hardware needs and costs thanks to the integration of various components such as ejector, solenoid valves and cabling.

The mode of operation: The complete pick & place workflow is controlled solely via switching the compressed air supply on and off to the lifting cylinder. When it is switched on, the integrated ejector creates a vacuum; the piston moves out, sucks in the piece and then moves back. This works extremely fast, so that only the top piece is lifted and the cylinder works independently of the stack height.

When the compressed air is switched off, the piston moves downward. The integrated blow-off pulse enables fast placing of the pieces and consequently ensures short cycle times. Thanks to the cylinder rod locked against rotation, the piece is placed in the way it is picked. Differences in stack level are no problem, because the piston is stopped automatically when it comes into contact with the work piece.

Meaningful expansion of a comprehensive product range
The lifting cylinder powered by compressed air expands the comprehensive FIPA product range in the areas of vacuum technology and gripping systems. A special added value of the company's own development philosophy: FIPA stands for flexible system solutions, in which the individual components are coordinated and can be combined modularly according to needs.


More from Architectural & Civil Engineering Products