Lifting Columns guide large loads safely.
Press Release Summary: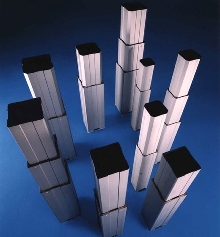 TELEMAG telescopic columns raise and lower medical equipment, industrial devices, and work-place furniture with large offset loads. Columns can be powered by ac, dc, or 3-phase current. Maximum push force is 4000 N at speeds up to 1 in./sec. Minimum retracted height is 345 mm and maximum stroke length is 700 mm. Systems are available in 2 or 3 section models. Options include control units, operating elements, and maintenance-free actuators.
---
Original Press Release:
New 'Telemag' Telescopic Lifting Columns Enable Safe Guidance of Rehab Equipment or Furniture
OLNEY, IL, August 12, 2002 -- Magnetic's TELEMAG telescopic lifting columns are ideal wherever robust and safe guiding systems are needed to raise and lower medical equipment, industrial devices, or workplace furniture with large offset loads. The TELEMAG line can further be customized with a combination of available control options, operating elements, and accessories to offer added flexibility and to satisfy particular application demands for rehabilitation and workplace ergonomics. TELEMAG telescopic lifting columns (powered by DC, AC, or three-phase current) feature reliable and solid square aluminum stands with inner and outer tubes in three different sizes. A built-in electrical drive telescopes and retracts the inner tube. Maximum push force is up to 4000N at speeds up to 25mm/sec (1"/sec). Minimum retracted heights (345mm to 845mm) and large stroke lengths (200mm to 700mm) promote optimum performance. The systems are available two- or three-section models. The three-section versions offer even higher offset load capability. Maintenance-free actuators for TELEMAG telescopic lifting columns run quietly and can be equipped with KOM control units to enable flexible and tailored system control. These units are ideal to handle low-voltage control for simple tasks or microprocessor technology for complex control solutions. All TELEMAG models are designed to be unobtrusive once installed. Contact Troy Neil, Magnetic Corporation, 3519 N. Union Drive, Olney, IL 62450. Phone: 800-835-3624; Fax: 618-392-3647. magnetic.skf.com (Magnetic Corporation is an SKF company.)
Related