Lift Truck Die-Cast Models come with moving parts.
Press Release Summary: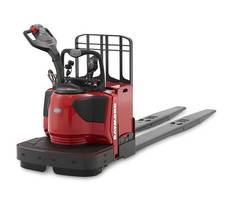 Ensuring models would represent the real lift trucks in thorough detail, Model 7400 Reach-Fork® truck and model 8400 pallet truck are replicated on 1/12 scale. Model 7400 comes with array of working parts, including three-stage mast and pantograph mechanism. Model 8400 includes swiveling handle, drive unit, and rotating handle. All wheels of replica turn and caster wheels swivel.
---
Original Press Release:
Raymond Replicates Lift Trucks in Die-Cast Scale Models
GREENE, N.Y. - The Raymond Corporation is pleased to now offer die-cast scale models of two Raymond® lift trucks: the Model 7400 Reach-Fork® truck and the Model 8400 pallet truck. Both trucks have been replicated on a 1/12 scale and feature moving parts. "These replicas include everything that would be part of an actual Raymond truck," says Richard Baker, manager of marketing communications for The Raymond Corporation. "Great care was taken to ensure the models would represent the real lift trucks in thorough detail." The Model 7400 Reach-Fork die-cast model features a wide array of working parts, including a three-stage mast and pantograph mechanism. A pivoting door opens to reveal the meticulously re-created motor. The Model 8400 pallet truck replica includes a swiveling handle and drive unit and a rotating handle. All the wheels turn, and the caster wheels swivel. The cover is removable to display the motor compartment. To order a Raymond lift truck die-cast model, visit www.raymondmerchandise.com or call (877) 841-6311. For more information about The Raymond Corporation or to locate a Raymond dealer, visit www.raymondcorp.com or call (800) 235-7200. The Raymond Corporation is a global provider of material handling solutions that improve space utilization and productivity, with lower cost of operation and greater operator acceptance. Raymond offers the iWarehouse(TM) system, an enterprise fleet management solution for warehouse and distribution center managers to collect and analyze real-time lift truck data to maximize fleet productivity and reduce costs. High-performance, reliable, ergonomically designed Raymond® lift trucks range from a full line of manual and electric pallet trucks and walkie stackers to counterbalanced trucks, Reach-Fork® trucks, orderpickers and dual-purpose (pallet handling/case picking) Swing-Reach® trucks. For additional information about The Raymond Corporation or to locate a Raymond dealer, visit the company Web site at www.raymondcorp.com or call (800) 235-7200. Above. And beyond.®, iWarehouse(TM), Raymond®, Reach-Fork®, and Swing-Reach® are U.S. trademarks of The Raymond Corporation. The Raymond Corporation Attn: Charlotte K. O'Dea Project Manager, Marketing Communications South Canal Street P.O. Box 130 Greene, NY 13778-0130 Fax: 607-656-9005 marcom@raymondcorp.com
More from Thermal & Heating Equipment