Lift Magnets offer 4000 lb capacity and remote operation.
Press Release Summary: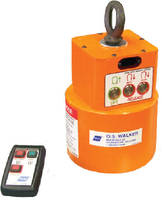 Comprised of 6 models to fit various lifting applications, Circular Electric Lift Magnets (CER) Series can be switched on/off from up to 15 ft away via wireless (IR) remote. Degree of magnetic field penetration minimizes susceptibility to adverse surface conditions. Dual-button release design promotes safety in remote and on-board rectifier, and magnets will not lift if contact is not secure. Also, products cannot be shut off accidentally when lift is in progress.
---
Original Press Release:
Walker Magnets Lift 4000 lbs with One Finger
Worcester, MA, October 12, 2009 - Walker Magnetics, the international leader in the design and manufacture of magnetic products for light and heavy industry, introduces the world's first and only Circular Electric Lift Magnets (CER) with IR wireless remote. CER magnets are the least costly but most powerful magnets of their kind available. The deep penetration of their magnetic field make CER magnets less susceptible to adverse surface conditions than any other self-contained magnet. The CER Series has six models to fit a variety of lifting applications. CER magnets are ideally suited for in-plant handling of steel plate, flat stock, castings, forgings or machined components in all types of industrial plants, machine shops, fabricating shops and steel warehouses. The state-of-the-art CER Series with wireless remote was developed because it is safer as well as a timesaver. No more climbing on a load to switch it on or off. You can do it easily-and safely from up to 15 feet away. There are many other safety features built in. For example, easy-to-use on-board push buttons to attract and release work pieces when desired. The release is a two-button design for added safety in both the remote and the on-board rectifier. The CER with remote won't lift if the contact isn't secure. And, it can't shut off accidentally when a lift is in progress. Walker's new wireless remote is available on the CER Series magnets (Models CER-5 through CER-12). Customers with an existing CER magnet can have it upgraded to IR remote control. Now you can enjoy all the benefits of CER magnets: the lift capacity, the flexibility, and the reliability without having to reach over and flip a toggle switch. Instead, with the CER magnet with IR remote, you can operate safely and easily from up to15 feet away-with one finger. For more information on the CER Series Circular Electric Lift Magnets with wireless remote, contact WALKER MAGNETICS, 20 Rockdale Street, Worcester, MA 01606, call Kristian Knights or John Knight at 1-508-853-3232, email kknights@walkermagnet.com, jknight@walkermagnet.com. Or visit www.walkermagnet.com/news. About Walker Magnetics Group Walker Magnetics Group, Inc., a privately owned company, is the largest company in the world providing custom design and manufacture of magnetic products for workholding, material handling and separation applications. Founded in 1896 in Worcester, Massachusetts by Oakley S. Walker, the inventor of the electromagnetic chuck, the company has grown from a manufacturer of one primary product, the electromagnetic chuck, to a global concern. Walker Magnetics Group designs and manufactures a wide range of permanent, electromagnetic and electro-permanent magnet products and systems for industrial applications. Headquartered where it all began in Worcester, Massachusetts, Walker Magnetics Group's reach is international-and growing with manufacturing, research and development capabilities in North America, Europe and Asia. The company delivers its diverse product line to over 190 countries worldwide. Visit Walker Magnetics Group at www.walkermagnet.com.
More from Agricultural & Farming Products