Lifetime Warranty Provided with Model 8086 RJ45 CAT6 AB Switch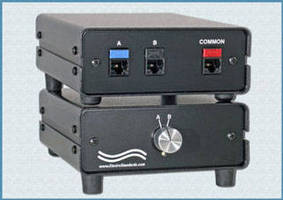 Electro Standards Laboratories, Cranston, RI, announces the new Model 8086 RJ45 A/B CAT6 compliant network switch. The Model 8086 enables access to two 100 BASE-T networks up to 1000 Mbps. This switch allows the user to reroute data between two networks with the simple flip of a switch.



This switch was built with the focus on reliability. The switch has integrated into its design a high-quality sealed switch with self-wiping contacts. This switching mechanism is a sealed precious metal contact switch. The aluminum housing provides EMI shielding. The company is so sure of the workmanship and quality of this switch that it offers a lifetime warranty against manufacturing defects.



The switch port connectors include (3) RJ45 female connectors labeled A, B and COMMON. The front-panel control is via (1) rotary switch that selects the A or B position. There is no power required with this manually operated switch. The switch supports all 8 pins of the RJ45 CAT6 interface. The is no need to plug and unplug cables with the Model 8086, thereby eliminating connector wear.



The Model 8086 is available for shipment worldwide. The dimensions are 5.3" W x 2.6" H x 7.3" D (13.5 x 6.6 x 18.5 cm) and the weight is approximately 1 lb. (0.5 Kg). The company also provides custom length CAT6 cables for the switch installation.



For more information on the Model 8086, including a detailed full-color application diagram and a link to the product specification sheet, visit the company Website at http://www.electrostandards.com/ProductDetail/?productid=2281. Electro Standards' staff of knowledgeable sales engineers is available to answer product and application questions at 401-943-1164 or via email at eslab@electrostandards.com.



More from Agricultural & Farming Products