Leviton SmartlockPro® Dual Function AFCI/GFCI Receptacle Receives 2016 NECA Showstopper Award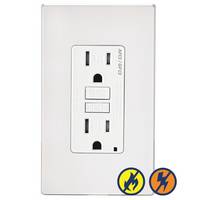 An industry-first, the device receives recognition at 2016 NECA Convention & Trade Show
MELVILLE, N.Y., Nov. 2, 2016 - The Leviton SmartlockPro® Dual Function AFCI/GFCI Receptacle was named a National Electrical Contractors Association (NECA) Showstopper during the 2016 NECA Convention & Trade Show in Boston, October 7-10.
The annual NECA Showstopper Showcase and Awards is one of the most prestigious recognition events in the electrical construction industry. The showcase is designed to introduce new products and services to electrical contractors during the NECA Convention & Trade Show.
The SmartlockPro Dual Function AFCI/GFCI Receptacle offers a National Electrical Code® (NEC®) compliant option for AFCI/GFCI protection in residential kitchens and laundry areas for new construction, modifications/extensions and replacement receptacles. The device replaces a standard receptacle and is also an ideal replacement for ungrounded receptacles, satisfying NEC requirements for both AFCI and GFCI protection.
With test and reset buttons readily accessible on the device face, the SmartlockPro Dual Function AFCI/GFCI Receptacle offers convenience for homeowners to test the device monthly or to respond to a trip. The Status Indicator Light, also on the face of the device, provides a clear and intuitive at-a-glance visual indication to the user of the status of AFCI and GFCI protection - normal working state, miswiring or an AFCI or GFCI trip, which may identify a potential problem.
As an added safeguard, the SmartlockPro Dual Function AFCI/GFCI Receptacle features Leviton's patented Reset Lockout, which prevents the device from being reset in the event it is not functioning properly, if protection has been compromised or if the line and load wires were reversed during installation.
"Electrical safety is a priority at Leviton, and we are very pleased that the SmartlockPro Dual Function AFCI/GFCI Receptacle has been named a 2016 NECA Showstopper," said Bill Grande, Leviton's Senior Director of Safety Products. "As the first receptacle on the market that helps protect against two important electrical safety issues - fire and shock - it is an important device to have in every home."
SmartlockPro® Dual Function AFCI/GFCI Receptacles are available through Leviton's network of retail, online and electrical distribution channels, including its online store http://store.leviton.com/.
For additional information on the SmartlockPro® Dual Function AFCI/GFCI Receptacle, visit www.leviton.com/dfci.
About Leviton Residential
Leviton residential products are the brand most preferred by builders and electrical contractors. Leviton's award winning lighting controls and wiring devices help electrical industry professionals and homeowners create smart and safe living environments that deliver energy savings, convenience and reliability. Learn more at www.leviton.com/residential.
About Leviton
Leviton is the smart choice, providing the most comprehensive range of solutions to meet the needs of today's residential, commercial and industrial buildings. Leveraging more than a century of experience, Leviton helps customers create sustainable, intelligent environments through its electrical wiring devices, network and data center connectivity solutions, and lighting energy management systems. From switches and receptacles, to daylight harvesting controls, networking systems, and equipment for charging electric vehicles, Leviton solutions help customers achieve savings in energy, time and cost, all while enhancing safety.
For more information, visit www.leviton.com.
SOURCE Leviton
CONTACT:
PR: Amanda Cillo,
412-889-7321,
Web Site: http://www.leviton.com