Leviton's Architectural Edition Loudspeakers powered by JBL.
Press Release Summary: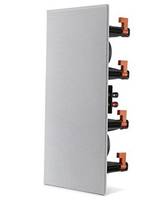 Announcing five Architectural Edition speaker options, Leviton's LAE5I, Dual 5 and ¼" Two-Way In-Wall Center Channel Loudspeaker, and LAEAW Indoor/Outdoor All Weather Loudspeakers are specifically designed for professionals. Three stand-alone home theater solutions include LAESB Soundbar with wireless subwoofer and Bluetooth; LAE5S free-standing Dual 5 and 1/2" Two-Way Shelf-Mount Center Channel Loudspeaker; and LAESW free-standing powered subwoofer.
---
Original Press Release:
Leviton Introduces Five New Speakers in Architectural Edition Powered by JBL® Series
Expanded offering includes new speaker options for the professional installation and distribution channel
Leviton today announced five new speaker options from the popular Architectural Edition Powered by JBL® series. JBL studio speakers have a reputation for incorporating the most advanced audio materials, technologies, and precision engineering available. Through Leviton's longstanding partnership with JBL, these five new products have been chosen for Leviton's Architectural Edition Powered by JBL family of speakers.
Two of these new speaker offerings are specifically designed for professional installation, and can be paired with a Leviton Hi-Fi 2 distributed audio system. The LAE5I, a new Dual 5 and ¼" Two-Way In-Wall Center Channel Loudspeaker, has nearly invisible zero-bezel magnetic grilles, snap-on wings for installation, and can be used as a low-profile installed center channel speaker or as an extreme performance left/right speaker in a no compromise, home theater system. The LAEAW is Leviton's new Indoor/Outdoor All Weather Loudspeaker, featuring gold-plated binding posts that are ideal for outdoor, utility, commercial, indoor pool, atrium, and other large space applications.
Leviton is also introducing three easy-to-install, stand-alone home theater style solutions for the distribution marketplace. The LAESB Soundbar with wireless subwoofer and Bluetooth technology is designed to perfectly match any flat-panel television while providing stunning, virtual surround sound from a sleek and simple package. The Soundbar connects wirelessly to its compact, powerful subwoofer, and connects with a single cable to a television, making an effortless installation. The LAE5S is a free-standing (non-installed) Dual 5 and 1/2" Two-Way Shelf-Mount Center Channel Loudspeaker, which is ideal for applications where an installed speaker is not practical. An example of this would be a large home theater system where an in-wall speaker would be blocked or wall construction might not permit an installation. Lastly, the LAESW is a new free-standing (non-installed), powered subwoofer which offers the signature punch and accuracy of a JBL bass with a sophisticated and modern look that can be used to reinforce the performance of in-wall and in-ceiling installed speaker systems.
"Leviton is delighted to expand our high-end speaker offering for custom installers worldwide," said James Shurte, product manager for Leviton Energy Management, Controls & Automation. "Our new in-wall speakers with magnetic grilles, the understated Soundbar, the weather resistant outdoor speaker, plus the center channel and subwoofer additions are strong assets to an already impressive product line that features in-wall, in-ceiling, and home theater speaker options."
"Leviton is a valuable partner who facilitates high-quality solutions to the custom installation channel via distribution," said Joe Walters, sales manager for JBL. "JBL looks forward to the growing enhancements to the Leviton Architectural Edition Powered by JBL line."
The Leviton Architectural Edition Powered by JBL series speakers are now available in several versions including in-ceiling, in-wall, outdoor, and home theater and are sold exclusively by Leviton through distribution and professional installers. For more information, please visit www.leviton.com/audio.
About Leviton
Leviton is the smart choice, providing the most comprehensive range of solutions to meet the needs of today's residential, commercial and industrial buildings. Leveraging more than a century of experience, Leviton helps customers create sustainable, intelligent environments through its electrical wiring devices, network and data center connectivity solutions, and lighting energy management systems. From switches and receptacles, to daylight harvesting controls, networking systems, and equipment for charging electric vehicles, Leviton solutions help customers achieve savings in nergy, time and cost, all while enhancing safety.
For more information, visit www.leviton.com,
SOURCE Leviton
CONTACT:
Amanda Cillo,
(412) 394-6661,