Sensors / Detectors / Transducers
Leviton LevNet RF(TM)Wireless Lighting Control System "Takes Home the Gold" for Second Year Running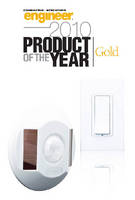 "Consulting Specifying Engineer" Magazine Names LevNet Wireless Products Best Product of the Year for 2010

Melville, New York, - Leviton Manufacturing Company's LevNet RF(TM) wireless lighting control products were just chosen by Consulting-Specifying Engineer (CSE) magazine as the Best Product of the Year for the second consecutive year. The high-performance line of wireless occupancy sensors, switches and accessories combines Leviton's legendary styling and superior performance features with reliable wireless technology from EnOcean, the leader in self-powered wireless lighting control solutions.

CSE Judges comprised of professional engineers who regularly design and specify HVAC, electrical, fire protection and plumbing systems, selected up to 5 finalists in each of 10 categories, and CSE subscribers determined their ranking as gold, silver or bronze. Leviton was awarded the prestigious gold level ranking.

"It is truly an honor that Consulting-Specifying Engineer magazine and their subscribers have chosen our wireless products as the Gold award winner in the lighting control products category once again this year," said Richard Westfall, Vice President and General Manager for Leviton's Lighting Management Systems. "Energy conservation has never been more important, from both an environmental and economic perspective. These back to back awards illustrate our commitment to providing innovative energy management solutions and maintaining a leadership position in this market among members of the specification community."

Without wires to run, LevNet RF devices reduce labor and material costs, and require only minutes to configure. Once installed, LevNet RF devices can be used in virtually any commercial retrofit environment to control energy consumption and reduce a facility's carbon footprint.

LevNet RF(TM) devices recently were awarded Design Journal Magazine's 2010 ADEX (Award for Design Excellence) Platinum level award, ECM's 2010 Product of the Year Award. LevNet RF was also named Buildings'' Top 100 Products for 2009 and Top 81 Money-Saving Products for 2010.

About Leviton

Leviton is a global leader in electrical wiring devices, data center connectivity solutions and lighting energy management systems. A member of the USGBC (United States Green Building Council), Leviton was founded at the turn of the 20th century, and has grown to become a preeminent leader in the industry. Today Leviton's product portfolio consists of over 25,000 devices and systems used in homes, businesses and industry. Nine out of ten buildings and homes throughout North America use products made by Leviton, and builders, electrical contractors and other industry professionals rank Leviton products #1 in brand preference. Leviton products are the smart choice for smart professionals.

For more information contact Leviton Manufacturing or visit www.leviton.com.

More from Sensors, Monitors & Transducers