Lever Actuated Shaft Collars can be moved without tools.
Press Release Summary: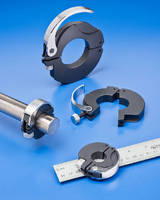 Featuring integral hinge with conformal cam lever for clamping and knurled nut for adjusting clamping preset, Staff-Lok™ Shaft Collars can be opened, moved, and re-clamped by hand. Units are machined from steel with smooth bore and are suitable for larger, non-rotary applications. Size combinations include: 2 1/8 in. OD with ½, 5/8, ¾, 7/8, and 1 in. bores; 3 ¼ in. OD with 1 1/8, 1 ¼, 1 ½, and 1 ¾ in. bores; and 4 ¼ in. OD with 2, 2 ¼, and 2 ½ in. bores.
---
Original Press Release:
Lever Actuated Shaft Collars New Larger Sizes Can Be Moved Without Tools
An expanded line of lever actuated shaft collars that can be opened, moved, and re-clamped by hand for use in larger, non-rotary applications is being introduced by Stafford Manufacturing Corp. of Wilmington, Massachusetts.

Staff-Lok™ Shaft Collars feature an integral hinge with a conformal cam lever for clamping and a knurled nut for adjusting the clamping preset, which makes it easy to move by lifting the lever, moving the collar, and clamping it by hand.  Eliminating the need for tools, this line of lever actuated collars has been expanded to include larger body and bore sizes.

Machined from steel with a smooth bore, Staff-Lok™ Shaft Collars come in three body and round bore size combinations: 2-1/8" O.D. with 1/2", 5/8", 3/4", 7/8", and 1" bores, 3-1/4" O.D. with 1-1/8", 1-1/4", 1-1/2", and 1-3/4" bores, and 4-1/4" O.D. with 2", 2-1/4", and 2-1/2" bores.  Specials are offered with different bores or materials.

Staff-Lok™ Hinged Shaft Collars are priced according to size and quantity.  Pricing is available upon request.

For more information contact:
Stafford Manufacturing Corp.
Jim Swiezynski, Technical Director
P.O. Box 277
North Reading, MA 01864-0277
(800) 695-5551 
FAX (978) 657-4731
e-mail: jswiezynski@staffordmfg.com
deep link: www.staffordmfg.com/News/Stafford-Expands-Line-of-Lever-Actuated-Collars 
www.staffordmfg.com
Contact This Company Download Spec Sheet
More from Communication Systems & Equipment