Leveling Mounts are free-standing to fit where needed.
Press Release Summary: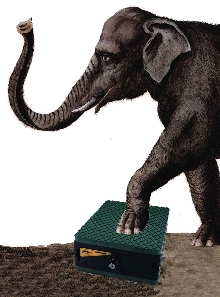 Wedgmount® VRC Series High Damping Leveling Mounts provide leveling from 15 to 22 mm, accurate to 0.01 mm, and are available with individual capacities ranging from 20,000 to 250,000 lbs. Isolation pads, made from elastomer with 30 to 42% damping ratio, can dissipate up to 90% of energy generated by machine. Mounts incorporate pads from 3 to 50 mm thick to match any application. They are mechanically adjustable under full load, using ratchet wrench.
---
Original Press Release:
High Capacity Leveling Mounts Free-Standing To Fit Where Support Is Needed

A full line of free-standing, high damping leveling mounts that can be placed directly under the feet of heavy machines, stamping presses, and related equipment for total and proper support is available from Airloc, a division of Clark-Cutler McDermott Company of Franklin, Massachusetts.

AirLoc Wedgmount® VRC Series High Damping Leveling Mounts provide precision leveling from 15 mm to 22 mm, accurate to 0.01 mm, and are available with individual capacities ranging from 20,000 to 250,000 lbs. Free-standing for placement directly where support is required, stability is assured by the stiffness of the isolation pads which can dissipate up to 90% of the energy generated by a machine, depending upon load and floor conditions.

Featuring isolation pads made from a proprietary elastomer, which have a 30% to 42% damping ratio, AirLoc Wedgmount® VRC Series High Damping Leveling Mounts can incorporate pads from 3 mm to 50 mm thick to match virtually any application. They are mechanically adjustable under full load using a ratchet wrench and provide significant vibration control.

AirLoc Wedgmount® VRC Series High Damping Leveling Mounts are priced from $45.00 to $1200.00 (list) ea., depending upon size. A catalog is offered.

For more information contact:

AirLoc

A division of Clark-Cutler McDermott Company

James H. Aimone, Marketing

5 Fisher St. / P.O. Box 269

Franklin, MA 02038

(800) 922-3019 FAX (508) 528-7555

e-mail: info@airloc.com

www.airloc.com

More from Laboratory and Research Supplies and Equipment