Level Transmitters are equipped with large LCD display.
Press Release Summary: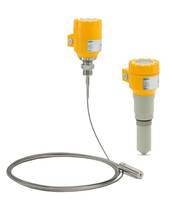 Available in 2290, 2291 models, Level Transmitters feature radar sensing technology. Featuring non-contact radar technolgy with PP or PTFE antennas, Type 2290 can resist most corrosive environments. Designed with stainless steel or FEP or PFA or PP coated rod for continuous level measuring of liquids, pulps or solids, Type 2291 delivers consistent measurement by eliminating interferences from low dielectric liquids, heavy fumes, conductive foams.
---
Original Press Release:
New Transmitters with Radar Sensing Technology Improve Level Measurement Accuracy
Piping Systems (GF) has expanded its automation product line with two new Level Transmitters. These transmitters incorporate advanced radar sensing technology designed for high accuracy tank level measurement in a wide range of chemical processing and water treatment applications. The addition of radar technology to the company's existing ultrasonic and hydrostatic sensors now provides three different level measurement technologies to meet virtually any level requirement.
"Detecting accurate fluid level information is not always easy," says Dave Vollaire, Instrumentation Product Manager for GF Piping Systems. "Variations in tank shapes, materials, and process conditions can create measurement challenges when using typical hydrostatic or ultrasonic sensing technologies. Our new model 2290 unguided wave radar transmitter and model 2291 guided radar transmitter provide solutions for more complex applications where conventional technologies cannot obtain the accuracy needed to provide consistent fill level information."
Radar level sensing technology is based on a transit time principle utilizing electromagnetic waves that are unaffected by fumes or gasses. The process media reflects a part of the energy back to the sensor, which allows calculation of a distance value and in turn the level information.
Radar Level Transmitter Type 2290 features non-contact radar technology in a compact, economical unit. Available in a variety of different materials to resist even the most corrosive environments, the 2290's tank mapping function makes it easy to block out objects like internal pipes, welding seams, stirrers or heating elements. Radar Level Transmitter Type 2291 is designed for continuous level measuring of conductive or non-conductive liquids, pulps or solids and maintains consistent measurement even under extremely tough conditions like turbulent process vessels. Its radar signal is sent down the probe assembly thereby eliminating interferences caused by low dielectric liquids, heavy fumes, conductive foams or internal tank obstructions.
Transmitter model 2290 is available with PP or PTFE antennas while Transmitter 2291 is available with either stainless steel or FEP coated rope, or stainless steel or PFA or PP coated rod. Both are equipped with large LCD display for clear visualization and easy configuration. Either HART or analog communication can be used.
For more information, contact GF Piping Systems at: toll Free (800) 854-4090;
e-mail: us.ps@georgefischer.com; Web: wwwgfps.com
About GF Piping Systems
GF Piping Systems supplies a full range of plastic pipe, fittings, valves, actuators, fusion machines, secondary containment, heat exchangers, custom products, and sensors and instrumentation for industrial process control. For further information, please contact: GF Piping Systems, 9271 Jeronimo, Irvine, CA 92618-1904 USA; Toll Free (800) 854-4090, Fax (714) 731-6923; e-mail: us.ps@georgefischer.com; Web: wwwgfps.com
Contact Information:
Georg Fischer LLC
USA 9271 Jeronimo
Irvine, CA
92618-1904
Dave Vollaire
Product Manager
Tel : +1 714 368 4162
Email: dave.vollaire@georgfischer.com
More from Architectural & Civil Engineering Products