Level Transmitter uses absolute magnetic encoding.
Press Release Summary: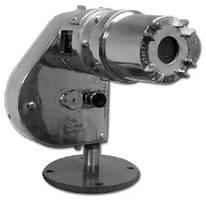 Featuring 0-128 ft range and support for all existing and future communication protocols, MCG 2000 MAX (Magnetic Absolute Xmitter) delivers standard accuracy of 1/32 in. or optional accuracy of 1/64 in. Unit is completely unaffected by power failures in tank farm, without use of batteries, and will reflect current level (even if it has changed) without additional calibration. Also, CPU's level of integration reduces number of components and corresponding power consumption.
---
Original Press Release:

L&J Engineering Announces MCG 2000 MAX



Magnetic Absolute Xmitter Technology Revolutionizes Industry, Cuts Costs

Chicago, IL - October 7, 2009 - Today L&J Engineering announced its latest edition of the MCG 2000 Transmitter, the MCG 2000 MAX. The MCG 2000 MAX uses L&J's revolutionary new absolute magnetic encoding (patent pending) to provide the greatest accuracy ever offered in the history of transmitters with 1/32 of an inch standard and with 1/64 of an inch accuracy as an available option.

"The MCG 2000 MAX uses a newly redesigned CPU which greatly reduces the number of components, which in turn greatly reduces power consumption as well as cost," Product Manager Jim Jannotta said. The reduction in power consumption also makes this new ultra-low power transmitter perfect for wireless applications in which the MCG 2000 MAX can be powered via solar power with battery backup or battery power only. This new version also supports all of the existing and future communication protocols, which means it can be easily integrated into any system.

Due to the reduced number of moving components, the MCG 2000 MAX is extremely reliable. "There is no contact with the encoder, so there's no chance of wear and tear," Jannotta said.

The MCG 2000 MAX utilizes absolute magnetic encoding which is the next step in L&J's patented absolute encoding technology which has been used on the MCG 2000S, MCG 2000SS, MCG 2000SSI, and MCG 2000SFI. L&J has replaced the foot and inch optical discs with foot and inch magnetics which provide much greater accuracy and reliability and also allow for the option of using a much smaller housing than previous offerings. The MCG 2000 MAX now has an expanded range of 0-128 feet. By using absolute magnetic encoding the number of parts required is greatly lowered in turn providing unmatched reliability. Just as with the previous generations of MCG 2000's the MCG 2000 MAX is completely unaffected by power failures in your tank farm without the use of batteries. When power is restored the transmitter will accurately reflect the current level, even if it has changed, without the need for additional calibration.

The MCG 2000 MAX utilizes a brand new local graphical LCD display which has the ability to display up to 10 times more information than the 2x16 character LCD display used on previous generations of the MCG 2000. As with all the L&J's state of the art level gauging solutions, the MCG 2000 MAX can be configured via infrared technology by using the MCG 2150 Handheld Infrared Calibration without violating explosion proof environments.

As with all of L&J Engineering's level gauging products, the MCG 2000 MAX uses Smart Flash Technology to allow the end user to "Flash" updates to the transmitter using L&J's MCG 3900 WINGauge Inventory Management System, the MCG 3920 WINFlash software, or the MCG 2151 SFI Programmer.

About L & J Technologies
L&J Technologies companies include L&J Engineering, Shand & Jurs (S&J), GPE Controls, Omnitrol, and Delavan. L&J is a global manufacturer of tank level gauging and tank fitting equipment, control systems technology, and related products. Custom engineering services, reliable and innovative technology, a complete field service team, and a state of the art manufacturing facility help L&J to maintain productive relationships with suppliers, representatives and customers. L&J provides quality products for many industries, including Petroleum, Petrochemical, Chemical, Food, Pharmaceutical, Pipeline, Wastewater, Steel, and Water Treatment.

For more information on L&J Technologies:
http://www.ljtechnologies.com/


More from Material Handling & Storage