Level Transmitter automates underflow pump control.
Press Release Summary: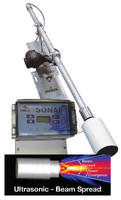 ORCA Sonar Bed Level Transmitters, used to control compact bed level/hindered layer level, maximize efficiency and performance of tailings thickeners, CCDs, high-rate thickeners, Lamella thickeners, and clarifiers. By monitoring 2 independent interface densities, reliable process feedback is provided for control of underflow pump. Designs include 3-7 sonar crystals mounted in one head, and each sonar array produces concentrated sonar beam.
---
Original Press Release:

Hawk, a Leading Global Provider of Level, Positioning and Flow Measurement Technology, has Introduced a BREAKTHROUGH in Interface Level Measurement



Use of Hawk 'ORCA' Sonar Bed Level Transmitters to control compact bed level/hindered layer level maximizes the efficiency and performance of Tailings Thickeners, CCD's, Hi-Rate Thickeners, Lamella Thickeners and Clarifiers.

By monitoring the two independent interface densities we are able to provide reliable process feedback for:

1. Control of the underflow pump to optimize the underflow density.
2. Removes operators from manually controlling underflow pumps based on rake torque and bed pressure which are greatly affected by density change.
3. Allows operations to run thickener at manufacturer's optimum design levels with less risk of rake overload.
4. Using both compact bed and hindered/interface layer provides only reliable real-time process settling conditions based on deviation changes to the two independent densities caused by changes in ore type, hydraulic changes, flocculent dosing, coagulant dosing etc which all affect settling conditions.
5. Reduces overall chemical costs by providing a bias in dosing chemical to the minimum dose at all times.
6. Reduces electricity costs on returning water from tailings dams by pumping optimized tailings bed densities.
7. Provides a supplementary control for flocculent dosing or can control the flocculent dosing.

The new Hawk transducer designs include three to seven sonar crystals mounted in a single head. Each sonar array produces a concentrated sonar beam, providing more emitted power and collecting more returned signals. Array transducers yield better penetration, higher sensitivity, and better overall performance with significant savings in the most difficult environments.

For further information, please contact:
Jack Evans
Hawk Measurement
Phone: 888 429 5538
Phone: 978 304 3000
Email: info@hawkmeasure.com

About Hawk
Hawk, a world leader in level, positioning and flow measurement technology, provides cutting- edge equipment to the global industrial market. With over 30 years of experience, Hawk offers a record of success in a wide range of areas including mining/mineral processing, water supply/waste water, bulk material handling and chemical. Hawk's ongoing commitment aims to provide industry leading technology and cost- effective solutions. For more information about Hawk, please visit www.hawkmeasure.com

More from Fluid & Gas Flow Equipment