Level Transducer includes embedded data logging capability.
Press Release Summary: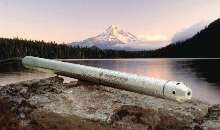 Series 550 waterMONITOR consists of submersible hydrostatic level transducer capable of storing up to 600,000 level, temperature, and time stamp measurements. It has RS-485 electrical interface using SDI-12 protocol with selectable baud rates up to 19,200. Transducer incorporates 2 or 4 Mb internal non-volatile memory and uploads data at 100 scans/sec. Full-scale level ranges from 0-10 to 0-692 ft of water with +0.05% FS total error band accuracy.
---
Original Press Release:

Pressure Systems Introduces Precision Submersible Level Transducer with Embedded Datalogging Capability


Hampton, VA, June 2004 - Pressure Systems, Inc., manufacturer of KPSI(TM) Level and Pressure Transducers, has introduced a new submersible hydrostatic level transducer that includes internal data logging functionality. The new Series 550 waterMONITOR is specifically designed for measuring water levels in environmental and land management applications, such as ground water, surface water, and open channel level measurement.

Capable of storing up to 600,000 level, temperature, and time stamp measurements, the waterMonitor transducer is ideal for remote environmental data collection and process monitoring. The new unit provides an accuracy of +0.05% FS Total Error Band (TEB) and can meet the demanding accuracy specifications of the USGS Office of Surface Water. The transducer has an RS-485 electrical interface using SDI-12 protocol with selectable baud rates up to 19,200, and a quick-disconnect cable attachment that facilitates replacement of the internal battery in the field. Each battery provides a nominal lifespan of 3 years.

The waterMonitor transducer is shipped with KPSI Integrated Transducers Software (KITS), an intuitive Visual Basic-based application software package that allows users to set-up and initialize transducers, upload transducer data, create a tabular and graphical representation of the data, and perform real-time data sampling. The software can be installed on a laptop to support the transducer during field operation or on a desktop computer. The software and future upgrades are available on Pressure Systems' web site at no charge: http://pressuresystems.com/kits.html.

The waterMONITOR's selectable sampling modes include linear, linear averaging, event, and logarithmic. The unit also features programmable sampling rates of up to 15 readings/second; incorporates internal non-volatile memory of 2 or 4 MB; and uploads data at 100 scans/second at a baud rate of 19,200, with a pressure and temperature time stamp.

The new transducer has full-scale level ranges from 0-10 ft. to 0-692 ft. of water. The 3/4" diameter unit comes in welded 316 SS, ensuring resistance to hostile liquids and gases, and features on-board surge protection. The polyurethane-jacketed cable is custom-manufactured with Kevlar® strength members to prevent elongation, and a self-sealing water block to protect against minor cuts to the cable. Each transducer is furnished with a vent filter that prevents humidity from entering the vent tube. Operating temperature ranges from -20°C to 50°C (-4°F to 122°F).

Pricing for a Series 550 waterMonitor starts at $1,095 for single piece quantities. Delivery is 10 working days ARO.

For more information, contact Denise Topping, Pressure Systems, Inc., 34 Research Drive, Hampton, VA 23666. Tel: 800/678-7226; Fax: 757/865-8744; E-mail: sales@PressureSystems.com; Web: http://pressuresystems.com/550.html

More from Services