Level Switches are offered in horizontal/vertical types.
Press Release Summary: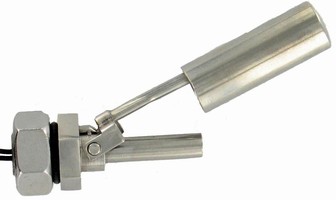 Series F6 Horizontal and Vertical Mount Level Switches include models F6-MHS, F6-HPS-11, and F6-SS that are internally mounted and secured to wall of tank or vessel from inside. Model F6-HPS-21 is mounted from outside and F6-HPS-31 can be installed by mounting either internally or externally. Hermetically sealed reed switches are actuated by magnets permanently bonded inside float and can be adapted to open or close circuit on rising or falling levels.
---
Original Press Release:

NEW! Series F6 Low Cost Horizontal & Vertical Mount Level Switches



W.E. Anderson, a division of Dwyer Instruments, Inc., the preferred source for your complete range of practical and affordable instrumentation, has just released the NEW SERIES F6 HORIZONTAL & VERTICAL MOUNT LEVEL SWITCHES.

Series F6 Horizontal and Vertical Mount Level Switches provide a simple, inexpensive control of the liquid level within a tank or vessel. Switch ratings are suitable for many solid-state control systems and monitors or alarms. Hermetically sealed reed switches are actuated by magnets permanently bonded inside the float and can be easily adapted to open or close a circuit on rising or falling levels.

Models F6-MHS, F6-HPS-11, and F6-SS are internally mounted and are secured to the wall of the tank or vessel from the inside while model F6-HPS-21 is mounted from the outside (externally). Model F6-HPS-31 can be installed by mounting either internally or externally.

Complete details are available on our website @ www.dwyer-inst.com/htdocs/level/SeriesF6Price.cfm

Dwyer Instruments, Inc.
P.O. Box 373
Michigan City, Ind., 46361
Phone: (800) 872-9141 or (219) 879-8000
Fax: (219) 872-9057
Internet address: www.dwyer-inst.com
E-mail: lit@dwyer-inst.com

Related