Level Measurement System measures clean or dirty fluids.
Press Release Summary: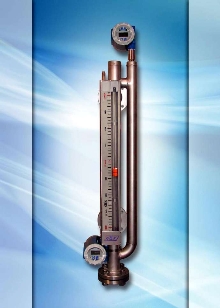 MagWave incorporates dual-chamber design that includes magnetic level gauge for level indication and guided wave radar transmitter. Unit offers accurate level measurements with pressures up to 3000 psi or temperatures to 800°F. Custom configuration is available with second chamber fitted for guided wave radar, magnetostrictive, or capacitance transmitters. Unit provides independent, redundant measurements in oil, gas, petrochemical, and power applications.
---
Original Press Release:
K-TEK Introduces Redundant Level Measurement System, Handles Virtually Any Environment - Clean or Dirty Fluids, Saturated Steam, High Temperature, High Pressure

Integrated, Dual Chamber Design Combines Robust Magnetic Level Gauge with Guided Wave Radar in Lightweight, Compact Unit

Prairieville, LA (April 18, 2005)- K-TEK, a leading manufacturer of state-of-the-art level instrumentation for liquid detection now celebrating 30 years of manufacturing excellence, today announced the new MagWave Dual Chamber Level Measurement System. A lightweight, compact, precision-fabricated unit, the MagWave is designed to provide independent, redundant measurements in a variety of oil, gas, petrochemical, and power applications. The new system is designed around a unique, dual chamber enclosure that provides added flexibility and accuracy. Two, tightly integrated but independent chambers include a Magnetic Level Gauge for level indication based on the specific gravity of the process, and a Guided Wave Radar Transmitter for measurements based on dielectric constant.

Unlike single chamber designs, MagWave can be used to measure clean or dirty fluids. A separate chamber for the Guided Wave Radar eliminates the need for a coaxial cable and allows customers to use the system in processes that may contain particulate matter that may build up on probes. The dual chamber design also removes extra parts from within the Magnetic Level Gauge chamber, eliminating potential float obstructions. The process connections on the MagWave are not limited to the side, but can be placed on the top, bottom, or side of the gauge. Vent and drain valves can be incorporated without changes in the chamber size, keeping the unit smaller and lighter than other approaches. If required, indicators can be repositioned from the factory-assembled locations.

"Redundancy is often required in challenging applications, such as feedwater heaters, industrial boilers, and wastewater tanks," said Robert Hotard, Product Manager for Radar and RF products at K-TEK Corp. "MagWave combines the robustness of the Magnetic Level Gauge with the accuracy of Guided Wave Radar. In fact, the system can also combine Guided Wave Radar, Magnetostrictive, and Capacitance transmitters in a single, compact unit. Add in the available switching options and the configurations for redundancy become limitless."

Two Robust Measurement Systems in One

MagWave's magnetic gauge is based on the company's rugged, float-based KM26 Magnetic Level Gauge. A visible shuttle or bargraph indicator magnetically couples to a float through the wall of the float chamber, thus avoiding direct contact with the process fluid. This eliminates problems with coating, plating, fouling, fugitive emissions, and hazardous material leaks, as well as provides accurate readings through dirty or colorless fluids, common with standard sight glasses.

In its standard configuration, the second MagWave chamber contains the company's robust, MT2000 Guided Wave Radar Transmitter. With no moving parts there is virtually no maintenance required. A waveguide cable or rod directs the microwave pulses directly to the product surface, eliminating the beam divergence problems common to conventional non-contact radar transmitters. The incorporation of a single, wave guide antenna and the secondary MagWave chamber allows the measurement of low dielectric materials, such as propane, hexane, and butane without the need for a coaxial type probe. The instrument provides accurate level measurements even with widely varying temperatures and pressures: up to 3000 psi (206 bar) or 800°F (427°C).

Custom-Designed for Challenging Applications

Each MagWave system is custom-configured for the customer's application. The second chamber can be fitted for Guided Wave Radar, Magnetostrictive, or Capacitance transmitters.

The standard configuration, the C1P11 waveguide, is rated to 1500 psi @ 100°F and a cable probe. The transmitter connection is a 3/4-inch NPT thread and the cable is weighted for centering within the chamber. The standard housing is powder-coated aluminum; an optional stainless steel housing handles corrosive environments. FM Approved and CSA Certified for use in hazardous areas, the MT2000 is also ATEX certified for use in potentially explosive atmospheres.

Also available is the C8P71, a robust coupler and waveguide created specifically for high temperature and high pressure hydrocarbon applications. The coupler can withstand extreme pressure and has the highest temperature rating in the industry: 1500 psi @ 800°F (103 bar @ 427°C). The C8P71 has a hermetic seal and is unaffected by vapors (excluding steam), making it especially useful for noxious environments.

The C9P81 waveguide is designed specifically for saturated steam applications, such as those found in power generation plants and industrial heat processes. The C9P81 features an alumina ceramic insulator that allows accurate and reliable measurements up to 2000 psi (138 bar) at 635°F (335°C).

Widest Selection of Materials & Process Connection Types

Able to work under even the most extreme conditions, MagWave systems can easily be customized to replace existing displacer chamber, site glasses, or DP transmitters. The system provides the industry's largest selection of chamber materials, including 316 Stainless Steel, Hastelloy C-276, Hastelloy B3, and Titanium.

The MagWave includes the broadest selection of process connections-slip-on flange, weld neck, NPT, and socket. Carbon to steel mating is also available for material compatibility. A difficult welding process, K-TEK's team of ASME-qualified welders ensures that neither pipe corrosion nor cracking will become an issue. In fact, K-TEK is the only level gauge manufacturer in North America to hold (3) ASME stamps ("U," "UM," and "S").

Pricing & Delivery

K-TEK's MagWave Dual Chamber Level Measurement System is available for immediate shipment. Prices start at $4500. Delivery is three weeks from receipt of order.

About K-TEK

K-TEK is a leading manufacturer of state-of-the-art level instrumentation for liquid detection. Founded in 1975, the company is now celebrating 30 years of manufacturing excellence. K-TEK pioneered the KM26 magnetic level gauge with extruded outlets and continues to set the pace in the industry with such innovations as AccuTrak, the first Fieldbus-compatible magnetostrictive level transmitter, and SureShot, the first low cost, all digital design laser level and distance transmitter. The company also manufactures magnetostrictive level transmitters, RF capacitance transmitters, ultrasonic transmitters, and a full line of point level switches, plumb bob devices, and field controllers. K-TEK's products are used in over 200,000 installations worldwide in such applications as plastics manufacturing, chemical processing, oil and gas production, pulp and paper processing, mining and construction, food and beverage manufacturing, and power generation. For more information, please visit www.ktekcorp.com.

For further information, contact:

Kevin Hambrice, Director of Marketing

K-TEK

18321 Swamp Road, Prairieville, LA 70769 USA

+1 225.673.6100, Fax: +1 225.673.2525

Email: khambrice@ktekcorp.com, Web: www.ktekcorp.com

PR Office:

Shari Worthington, President

Telesian Technology Inc.

49 Midgley Lane, Worcester, MA 01604 USA

+1 508.755.5242, Fax: +1 508.795.1636

Email: sharilee@telesian.com
More from Sensors, Monitors & Transducers