Level Sensors / Detectors / Transducers
Level-Detection Sensor sees through metal walls.
Press Release Summary: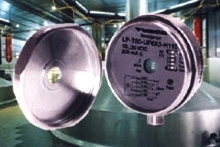 levelprox, designed for use with metal storage tanks, utilizes ultrasonic sensing technology to detect liquid levels inside metal-walled tanks. Suitable for applications where intrusion into tank is not desired, levelprox can sense through metal walls from .040 to .590 in. thick. It incorporates 1-102 Tri-clamp fitting into sensor and can be used with optional mounting kit. It includes alarm output and teach button for set-up and programming.
---
Original Press Release:
Wow! A Level Detection Sensor That Can See Through Metal Walls ; Turck's New Levelprox

Minneapolis, MN-August 2, 2002-TURCK Inc. has announced levelprox, a revolutionary new level-detection sensor designed for use with metal storage tanks. Utilizing ultrasonic sensing technology, levelprox offers a clear advantage over traditional capacitive sensors with the ability to detect liquid levels inside a metal-walled tank without the need for an access port. For capacitive sensing, an access port must be present in the tank wall, which reduces the overall structural integrity of the tank itself, creating a possible leak-point as well as a potential spot for the media contained within to build-up.

levelprox is ideal for applications in breweries, dairies and other food or beverage production facilities, wastewater treatment, chemical handling, oil or lubricant storage and pharmaceutical. Using ultrasonic technology to sense through the metal tank walls is ideal for situations where intrusion into the tank is not desired, such as when the media is caustic or volatile, under high pressure, at very high temperatures, and especially if the environment is sanitary. Also, with levelprox there are no material compatibility issues since there is no direct contact with the media, and it is not affected by stirring devices.

levelprox is constructed of high grade 316 stainless steel (1.4404) and can sense through walls from 1 mm (.040") to 15 mm (.590") thick. A 1-102 Tri-clamp fitting is incorporated into the sensor and can be used with the optional mounting kit, which includes the clamp. The mount is welded to the tank and the sensor is fastened to it with the Tri-Clamp. This positions the sensor face in the ideal detection position and also ensures a sanitary, leak-proof fitting. levelprox is completely self-contained with no need for an additional amplifier.

levelprox includes a teach button for simple set-up and programming. Once the teach mode is entered, the sensor simply needs to be shown both the "full" and "empty" conditions. Upon completing setup, the sensor will automatically return to the "run" mode and the values will be stored. If the teach procedure fails, an alarm output is activated to inform the user of the problem. levelprox also features DIP switches for toggling a variety of application parameters such as normally open/normally closed, time delays and disabling the teach button.

TURCK is a leading supplier of advanced sensing solutions to help manufacturers improve their automated processes, products and profits. For other TURCK products or technical information, please contact: Application Support-Toll free: 800-544-PROX (7769) . Visit us on the web www.turck.com, or Email: sensors@turck.com.
More from Electrical Equipment & Systems