Level Compensators hasten production, reduce product damage.
Press Release Summary: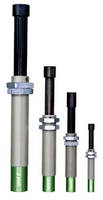 Offering various size, stroke length, and connection fitting options, LC series has aluminum design that optimizes production capacity of vacuum handling devices by reducing total weight and accelerating movement. In addition to compensating for height differences, series ensures suction cups are gently placed on objects and reduces need for exact cup positioning. Design provides shock and vibration absorption, and stroke length aids handling of products with challenging geometries.
---
Original Press Release:

Piab Launches Range of Lightweight Level Compensators to Reduce Product Damage and Speed Production



Täby, Sweden - Piab, a leading supplier of industrial vacuum technology, expands its range of level compensators with the lightweight LC series. The new LC level compensators, or spring plungers, allow manufacturers to speed production processes while reducing the risk of product damage when handling sensitive goods with varying height requirements.

With a unique aluminium design, Piab's new level compensators provide a lightweight alternative to traditional products manufactured from steel, reducing the total weight of vacuum handling devices. This lighter weight allows vacuum systems to move more quickly, so manufacturers can increase production capacity.

To help manufacturers reduce the risk of damage to sensitive products, the LC series not only compensates for height differences but also ensures suction cups are gently placed on objects and reduces the need for exact cup positioning. This makes the compensators ideal for handling sheets of glass, plastic and metal as well as wood and other sensitive packages or goods. The LC level compensators also allow an extra long stroke length compared to traditional solutions, facilitating the handling of products with challenging geometries such as injection moulded plastics or car parts. In addition, they provide shock and vibration absorption to protect other components in vacuum handling systems.

To boost flexibility, the LC series works with Piab's complete range of fittings, including its modular piGRIP® suction cups. The LC level compensators also feature a non-rotational design, allowing their use with both oval and round suction cups. With 16 different level compensators in a variety of sizes, stroke lengths and connection fittings, the LC series is suitable for a wide range of products.

"Minimised risk of product damage, increased productivity and flexibility across a range of applications are all key factors for manufacturers to consider when selecting production components," said Josef Karbassi, Vice President Marketing and Communication, Piab. "With the launch of the new lightweight series of level compensators, we are able to simultaneously address these market requirements, ultimately helping our customers to reduce costs and increase capacity."

About Piab
Established in 1951, Piab designs innovative vacuum solutions that improve the energy-efficiency, productivity, and working environments of vacuum users around the world. As a reliable partner to many of the world's largest manufacturers, Piab develops and manufactures a complete line of vacuum pumps, vacuum accessories, vacuum conveyors and suction cups for a variety of automated material handling and factory automation processes. Piab utilizes COAX®, a completely new dimension in vacuum technology, in many of its original products and solutions. COAX® cartridges are smaller, more energy efficient and more reliable than conventional ejectors, and can be integrated directly into machinery. This allows for the design of a flexible, modular vacuum system. Piab is a worldwide organization with subsidiaries and distributors in more than 50 countries. Its headquarters are in Sweden. For more information about Piab vacuum solutions for a diverse range of applications, visit www.piab.com.


More from Optics & Photonics