Lens Test Bench allows for both on-axis and off-axis testing.
Press Release Summary: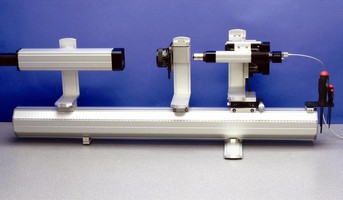 With OS200B Lens Test Bench, users can evaluate performance of commercial lenses, validate performance of custom lens prototypes, track performance of incoming batches of lenses, or diagnose imaging problems. Combining classic lens test bench with live video and MTF analysis software, it can test positive, negative, and afocal modules. Unit allows visual evaluation and quantitative tests of image quality, lens parameters measurement, and wavefront aberrations visualization.
---
Original Press Release:

OS200B Lens Test Bench



8/1/08

Wells R&D Introduces the OS200B Lens Test Bench

Classic Lens Test Bench Plus Live Video And MTF Analysis Software

Evaluate the performance of commercial lenses for use in larger systems, validate performance of custom lens prototypes, track the performance of incoming batches of lenses, or diagnose imaging problems, with the OS200B from Wells Research and Development.

The OS200B is an extremely flexible optical rail system - it can test positive lenses, negative lenses, and even afocal modules. Test can be done at infinity or at finite conjugates. While the base system is configured for on-axis testing, options are also available for off-axis testing.

The OS200B allows users to make the following measurements:

o Visual evaluation of image quality

o Quantitative tests of image quality - MTF (Modulation Transfer Function), 3-Bar contrast, enslitted energy

o Lens parameters - EFL, BFL, FOV, F-number

o Evaluation of depth-of-field, centration, on-axis color and astigmatism, veiling glare

o Visualization of wavefront aberrations at lens pupil and construction of "ray fan" plots

Wells Research and Development

15A Lewis Street

Lincoln, MA 01773

(781) 259-8667

info@wellsresearch.com

Contact: Ben Wells


More from Fluid & Gas Flow Equipment