Length Gauges target low force applications.
Press Release Summary: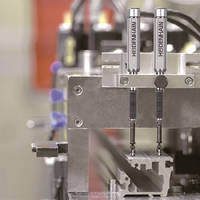 For lower force applications, pencil probe-style SPECTO Series includes two 1 Vpp, 12 mm stroke length variants. Model with weak spring provides 0.4 N of gauging force, while model without spring applies 0.2 N of force over entire measuring length. Additionally, both 12 mm stroke SPECTO and ACANTO length gauges offer accompanying IP67 version, enabling operation in dirty shop environments.
---
Original Press Release:

Accuracy and Versatile Gauging Go Hand in Hand at HEIDENHAIN



SCHAUMBURG, IL — Already well respected for accuracy, HEIDENHAIN now adds versatility to its gauging line by expanding its Length Gauge offerings with new variants of its successful in-line SPECTO and ACANTO gauges. 



Specifically, HEIDENHAIN's pencil probe-style SPECTO length gauge series now offers versions with an improved force specification.  Two new 1Vpp, 12mm stroke length variants of the SPECTO series are available for lower force applications. One is a variant with a weak spring, 0.4N of gauging force, and the other, without spring, applies 0.2N of force over the entire measuring length.



Additionally, both the 12mm stroke SPECTO and ACANTO series length gauges offer an accompanying IP67 version enabling them to function in even the dirtiest shop environments.



For more information, contact HEIDENHAIN's Public Relations Manager Kathleen Stoneski at (847) 519-4702 (kstoneski@heidenhain.com) or Product Specialist Stuart Graham at (847) 519-3296 (sgraham@heidenhain.com) or write to us at HEIDENHAIN CORPORATION, 333 E. State Parkway, Schaumburg, IL  60173.  HEIDENHAIN can also be accessed directly via our web site at www.heidenhain.us.



HEIDENHAIN CORPORATION is the North American subsidiary of DR. JOHANNES HEIDENHAIN GmbH, a leading international manufacturer of precision measurement and control equipment.  Our product line includes linear scales, rotary and angular encoders, digital readouts, digital length gages, CNC controls, and machine inspection equipment.

More from Packaging Products & Equipment