Length Gauges increases accuracy for in-process measurement.
Press Release Summary: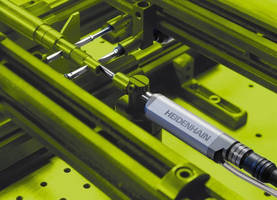 ACANTO 1217 and 1218, when paired with bidirectional serial interface EnDat 2.2, support in-production monitoring and thereby enable operators to detect failures before they occur. Along with built-in error monitoring, products remember last datum used and therefor eliminate need to re-master due to gauge itself. Rated to IP64 or IP67, models feature ±1 µm accuracy and 12 mm stroke and can also auto-connect and report data to any control that has implemented EnDat.
---
Original Press Release:

HEIDENHAIN's Improved ACANTO Length Gauge Offers Higher Accuracy for In-Process Measurement



SCHAUMBURG, IL – HEIDENHAIN is pleased to announce the introduction of the new and improved +/- 1um accurate ACANTO 1217 and 1218 Length Gauges. Paired with the proprietary bi-directional serial interface EnDat 2.2, operators can now monitor gauges being used in production and detect failures BEFORE they occur, allowing mangers to plan and maintain optimal production levels and minimize machine down time.



Along with built-in error monitoring, the ACANTO remembers the last datum used thanks to the EnDat interface, so there is no need to re-master due to the gauge itself (environment and machine growth may require remastering independent of the gauge). The ACANTO also auto-connects and reports data to any control that has implemented EnDat. With an IP rating of IP64 or IP 67, the ACANTO can be used on the shop-floor in automated systems or in clean environments.



The ACANTO can be implemented in a multitude of gauging applications, from automotive manufacturing, medical device, in-process measurements, as well as fixtured gauging stations.



Important specs of the ACANTO length gauge include:

Accuracy: +/- 1um

Stroke Length: 12 mm

Interface: EnDat 2.2 (Datum memory, Error monitoring, Gauge Auto-Recognition)



This update is just the latest improvement to the growing Length Gauge portfolio at HEIDENHAIN.



For more information, contact HEIDENHAIN's Public Relations Manager Kathleen Stoneski at (847) 519-4702 / (kstoneski@heidenhain.com) or Product Specialist Stuart Graham at (847) 519-3296 / (sgraham@heidenhain.com).  Or write to us at HEIDENHAIN CORPORATION, 333 E. State Parkway, Schaumburg, IL  60173.  HEIDENHAIN can also be accessed directly via our web site at www.heidenhain.us.



HEIDENHAIN CORPORATION is the North American subsidiary of DR. JOHANNES HEIDENHAIN GmbH, a leading international manufacturer of precision measurement and control equipment.  Our product line includes linear scales, rotary and angular encoders, digital readouts, digital length gauges, CNC controls, and machine inspection equipment.

More from Architectural & Civil Engineering Products