Electrical Sensors / Detectors / Transducers
LEM Introduces Energy-Meter/Transducer Combination to Meet prEN 50463 in Traction Applications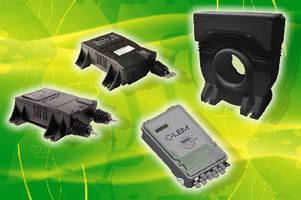 MILWAUKEE, WI and GENEVA, Switzerland - LEM has announced the first package of components specifically designed to enable rail-traction designers to meet the provisional EN 50463 standard for on-board energy monitoring. Included in the announcement, which comprises an energy meter with matched current and voltage transducers, are:

o A new, enhanced version of LEM's EM4T energy meter, EM4T II, rated and certified to Class 0.5R accuracy.

o LEM's DV series voltage transducer, that will be available with Class 1R or Class 0.75R certified accuracy

o Current transducers from LEM's ITC family of products; an ITC 4000 and a combined ITC 2000 / 1000, certified for Class 0.5R accuracy.

LEM's EM4T II is a single-phase energy meter that meets all current and proposed standards for on-board rail-traction energy monitoring and, specifically, complies with all of the requirements of the new prEN 50463. With the EM4T II as the basis for tracking and logging energy consumption, designers can provide the level of energy metering for fiscal (billing) purposes that are required for locomotives that will operate across international borders and on multiple electrical supply domains.
The EM4T offers four input channels to accept measurements from any existing AC or DC traction supply network. From voltage and current measurements, it calculates active and reactive energy, compiles a load profile, and stores the values in internal flash memory; data points are recorded at selectable intervals ranging from 1 to 60 minutes. Data points in the record are stamped with information such as time and date, train identification, and the precise location of the train at every interval: location is derived from a dedicated GPS input to the EM4T II. Recording at 15-minute intervals, the EM4T II has sufficient internal memory for over 300 days' data. Optional, real-time data interfaces also support exchange of data with other train systems, such as a driver display. The EM4T II features excellent immunity to the high levels of electrical noise that are typical in the traction environment.

Uniquely, the EM4T II offers bi-direction monitoring of energy flows and can correctly record energy returned to the supply network during regenerative braking.

LEM's DV series of voltage transducers meets or exceeds all of the performance and safety demands of rail traction systems, in service and in design, today; it offers insulated voltage measurements for networks from 600 to 4200V, in a package significantly smaller than any other product in the market. Completing the offering is a current transducer from LEM's ITC range, which meets the requirement for a large-aperture current-measurement device with associated high-voltage specification.

While the EM4T II offers complete interfacing flexibility, and can connect to any suitably-rated transducer, the combination of the energy meter with LEM's optimized current and voltage transducers offers the industry's only route to full compliance with prEN 50463, with certified class accuracy.

LEM - At the heart of power electronics

LEM is the global leader in providing innovative and high quality solutions for measuring electrical parameters. Its current and voltage transducers are used in a broad range of applications in industrial, traction, energy & automation and automotive markets. LEM is a high growth global company with approximately 1000 employees worldwide. It has production plants in Geneva (Switzerland), Copenhagen (Denmark), Machida (Japan), Beijing (China) and regional sales offices close to its customer's locations. LEM has been listed on the SIX Swiss Exchange since 1986; the company's ticker symbol is LEHN. For more information, please visit www.lem.com.

Media Contacts

Suzanne Hochheimer
Corporate Communications Manager

Tel: +41 22 706 1257

Email: SuH@lem.com

All products or brand names are trademarks or registered trademarks of their respective holders.