Legacy CRT Migration to LCD Technology; VarTech's RETROFIT Program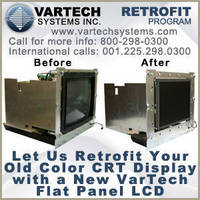 Although the LCD market has superseded Cathode Ray Tube (CRT) technology, there are still a large number of processes and applications that utilize CRTs as the main means of display and communication between the operator of machinery and the process. But CRTs are extremely heavy, occupy large volumes and consume relatively large amounts of electricity. Additionally, original CRT manufacturers have migrated production to current technology LCDs. So, locating available usable CRTs has proved to be very difficult if not impossible.

With many industrial/medical/military applications, these CRT monitors are embedded in the equipment they supervise and/or control which makes upgrade difficult and sometimes impossible. Their unique shape, screen size, mechanical format and communication interface can be vastly different than current LCD technology models. More often than not, substantial modifications to the customer's host equipment are needed which can be costly, inefficient or even impossible. Another distinct problem lies in communication between the much older host equipment and the new LCD display. Typically, current LCD communication protocol will not interface with the host equipment which might be 10-30 years old.

Companies utilizing CRT-based operator stations be that from the CNC machines, Numeric Control Machines, Medical equipment, PLC or DCS based operator stations/panels now have access to a better, more cost effective alternative. By special development of our own Signal Recognition and Scaling software, and access to an extensive library of older signal timings gained from 25 plus years of CRT monitor manufacturing, VarTech has created Multiscan "Universal" LCD technology with unique 15kHz to 64kHz display capabilities. We have the unique ability to "Retrofit" all new VarTech electronics as well as a new Flat Panel LCD into your existing chassis. This eliminates any concerns regarding mounting into your operator equipment and as well provides reliable communication between the new LCD and your older video format.

VarTech can retrofit most models including:
A & Y, ABB, ACGC, ALLEN-BRADLEY, ANILAM, ASCHENBRENNER, BALL, Beaver, Boley, Boko, BOSCH, Bridgeport, BROTHER, CABEL, Cardinal, Chiron, CHOMUSEN, CINCINNATI. Colchester, COMPUTRON, Daewoo, Dainichi, DECKEL, EMAG, EMCO, ESA, ETC, EWAG, FADAL, FAGOR, FORMENTI, GE, Gildemeister, Gnutti, GRUNDIG, Hass, HANTAREX, Hardinge, Heckert, HEIDENHAIN, Heidelberg, Herbert, HITACHI, Hitachi-Seiki, Hurco, INELCO, Jones & Shipman, KIA, Kitagawa, K.M.E., KORTEK, KTM, L.G., MAGNATEK, Maho, MATSUSHITA, MATSUURA, Mazak, MELDAS, MHP, MITSUBISHI, Mitsui Seiki, Monarch, Mori-Seki, MOTOROLA, MVB, Nakamura Tome, NOKIA, NUM, ONA, Okuma, PHILIPS, PLASMA, POLARTECH, Puma, Sabre, SAMPO, SAMSUNG, SEICOS, SELTI, SHARP, SIEMENS, SONY, Takisawa, Toyoda, Victor, TRAUB, TOSHIBA, TOTOKU, UNIPO, VDS, WALTER, Webster & Bennett, Wickman, YASNAC, YASKAWA, Yoshida, and many more. Call for more details.

More from Electrical Equipment & Systems