Leesburg Concrete Crosses a New Threshold with The Bolles School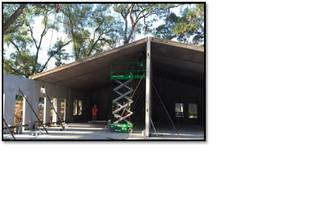 Leesburg Concrete Company, Incorporated crossed a new threshold in their manufacturing of precast concrete buildings. Over the past several years LCCI has produced and delivered multiple buildings of varying applications utilizing architectural precast concrete. The education market has been a large part of this effort. The Bolles School classroom building is the latest great example of using architectural precast to deliver strength and beauty to the campus. The respected private school has big trees and beautiful established structures. They wanted a precast concrete classroom building provided LCCI could match their existing brick walls and shingle roof. Leesburg Concrete met this challenge with high praise.
The roof, the floor, the walls, the entire building is precast concrete. Building plans were drawn up by Leesburg Concrete and submitted for approval. The precast production team knew a form liner for the roof did not exist. The team purchased matching three tab shingles, laid them out in a matching pattern, then poured and cured their own form liner to be used in production. The brick pattern was chosen and modified to include soldier course lintels and rowlock sills at window locations. "It is the careful attention to the details which are important to our clients that separates us from the competition." said Kirk Rouse.
Once production was underway, the building components were third party inspected in our facility for conformance to the engineered fabrication tickets. Leesburg Concrete produced and installed the classroom building in August. The Bolles School contracted Sauer Inc. to handle the fit out of the interior and the exterior of campus addition. The Bolles School with its added space was ready to receive students for the new 2016 semester. The team for this project was put together by Melvin Morgan with Aramark Facilities Management and included architect David Luke, engineer of record, Jude Kastag, Sauer Construction, and Leesburg Concrete Company, Inc. LCCI is proud to have served The Bolles School and wish this renowned institution and their students much success.
Leesburg Concrete Company, Incorporated
Family owned and operated since 1983, Leesburg Concrete Company, Incorporated was first a leading manufacturer of precast concrete steps decks, walkways, landings, and ADA compliant modular precast concrete wheelchair ramps, with steel guard rails, and handrails, as well as architectural precast cladding panels, precast concrete stairs, Easi-Set Buildings and Slenderwall. LCCI also offers a wide array of custom precast product options. "We Take Pride in exceeding our customer's expectations" stated Kirk Rouse, Vice President of LCCI. This American, family-owned company demonstrates a philosophy of quality and innovation.
Leesburg Concrete Company, Incorporated is focused on meeting the needs of commercial building construction and renovation projects. Their experienced staff provides turnkey service, and it only takes one call to find the solution to your building needs.
For more information visit their website at www.leesburgconcrete.com,
(800) 882-4177,
More from Cleaning Products & Equipment