Leesburg Concrete Company, Incorporated, New Licensee, Wins Award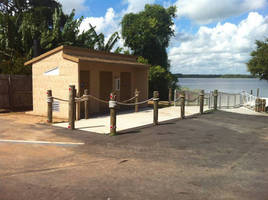 In June 2013, Leesburg Concrete Company, Incorporated (LCCI) became the newest member of the Easi-Set Buildings producer network. LCCI produces the buildings in their Leesburg, Florida NPCA certified plant.



By Sept. 14th, 2013 they had built and installed two buildings and won their first award at the Annual

Easi-Set Building Producers Seminar for the precast concrete restroom building pictured above. The Sierra Dry, an ADA compliant, vault restroom building was delivered fully-assembled to 4 park locations in Lake County, Florida by year end 2013. To date Leesburg Concrete Company, Incorporated has won contracts for 19 buildings.



Easi-Set® Buildings



Fabricated as separate wall, roof and floor panels, Easi-Set Buildings, Easi-Span ultra-large buildings and Easi-Set restrooms, feature a patented post-tensioning system in the roof and floor, a turn-down roof that caps the walls, and a step-down floor panel to eliminate the possibility of water migration into the building along the bottom of the wall panels. Easi-Set Buildings are virtually maintenance free, are available in a variety of sizes and finishes, and are fully customizable. They are typically assembled at the plant, delivered to the customer's site and installed on a gravel pad or concrete slab in a matter of hours.



Leesburg Concrete Company, Incorporated



Family owned and operated since 1983, Leesburg Concrete Company, Incorporated a leading manufacturer of precast concrete ADA compliant modular precast concrete wheelchair ramps, steps, decks, walkways, and landings. Their metal fabrication department produces steel stair stringers, metal treads, step rails and ramp rails, guard rails, and handrails. Within the last several years they began producing architectural precast cladding panels and precast concrete stairs. LCCI also offers a wide array of custom precast product options. "We take pride in exceeding our customer's expectations," stated Kirk Rouse, Vice President of LCCI. This American, family-owned company demonstrates a philosophy of quality and innovation.



Leesburg Concrete Company, Incorporated is focused on meeting the needs of commercial, public and government building construction projects. Their experienced staff provides turnkey service, and it only takes one call to find the solution to your building needs. For more information visit their website, www.leesburgconcrete.com, call (800) 882-4177, or e-mail KRouse@leesburgconcrete.com.

More from Electronic Components & Devices