Leesburg Concrete Company, Incorporated Delivers More Floor to Floor Stairs In The Villages, Florida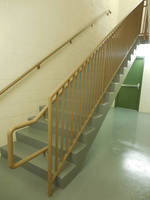 Leesburg Concrete Company, Incorporated (LCCI) produces high quality precast concrete floor to floor stairs and landings. In addition to many other stair projects, interior and exterior precast stairs have been produced and delivered to multiple Adult Living Facilities in The Villages, Florida.  This large active retirement community is making sure the members of the community will have facilities which will continue to meet their needs as they mature resulting in stair orders for Leesburg Concrete. 



Leesburg Concrete Company began producing precast stairs four years ago and has precast and delivered floor to floor stairs throughout the Southeastern United States for high profile General Contractors, Central Florida theme parks, State Universities and The United States Coast Guard. "We produce precast concrete stairways with or without landings to satisfy individual configurations and requirements.  If you need high end, custom architectural stairs or special finishes, we do that too" said Kirk Rouse.  "And we can fabricate your stair rails, handrails and guardrails in out metal shop. Our stair finishes are the highest quality.  We meet and exceed our customer's expectations."



Leesburg Concrete Company's quality custom stairs are produced in their award winning NPCA Certified Plant (National Precast Concrete Association) and can be delivered anywhere in the USA. 



Leesburg Concrete Company, Incorporated



Family owned and operated since 1983, Leesburg Concrete Company, Incorporated is a leading manufacturer of precast concrete steps decks, walkways, landings, and ADA compliant modular precast concrete wheelchair ramps, with steel guard rails, and handrails.  They also manufacture Easi-Set® Buildings, Easi-Span® field assembled large and ultra-large buildings and Easi-Set® restrooms, feature a patented post-tensioning system in the roof and floor, exterior architectural precast wall panels and precast concrete stairs. In addition LCCI offers a wide array of custom precast product options.  "We take pride in exceeding our customer's expectations" stated Kirk Rouse, Vice President of LCCI. This American, family-owned company demonstrates a philosophy of quality and innovation.



Leesburg Concrete Company, Incorporated is a NPCA Certified Plant, focused on meeting the needs of commercial building construction and renovation projects. Their experienced staff provides turnkey service. It takes only one call to find the solution to your building needs – (352) 882-4177.  For more information, please visit their website at www.leesburgconcrete.com, or e-mail Kirk  KRouse@leesburgconcrete.com.




More from Electrical Equipment & Systems