Leesburg Concrete Company Delivers Relocatable Precast Loading Dock Ramp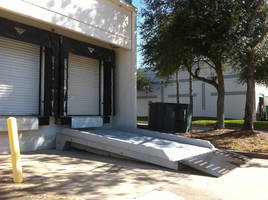 Leesburg Concrete Company, Incorporated (LCCI) recently installed a relocatable precast concrete loading dock ramp.

In late 2015 LCCI received a call from IMS Technology Services which was opening a new location in Orlando, FL. They needed a ramp that would allow the interior floor of a cargo/utility van to be level with their loading dock platform. The challenge was that they are leasing the space so no permanent alterations are allowed.  Additionally they wanted to be able to maximize their investment by being able to move the loading dock ramp should they outgrow their current location.

When LCCI received the call we went to work to deliver a turnkey solution. "The installation time is a matter of hours and the ramp can be used immediately" said  Ben Vizzi. "The beauty of a relocatable precast loading dock ramp is that we can easily adapt it to an individual's requirements using our standard product line."

LCCI sells and leases relocatable precast loading dock ramps that are installed in a variety of widths, lengths, and heights in order to adapt to their customers' needs.  Leesburg Concrete delivers and installs this product throughout the Southeast United States.

Leesburg Concrete Company, Incorporated continues to offer precast solutions and deliver customer satisfaction. 

Leesburg Concrete Company, Incorporated
Family owned and operated since 1983, Leesburg Concrete Company, Incorporated was first a leading manufacturer of precast concrete steps decks, walkways, landings, and ADA compliant modular precast concrete wheelchair ramps, with steel guard rails, and handrails. They also manufacture Easi-Set® Buildings, Easi-Span® field assembled large and ultra-large buildings and Easi-Set® restrooms, feature a patented post-tensioning system in the roof and floor, architectural precast cladding panels, precast concrete stairs and precast loading dock ramps.  LCCI also offers a wide array of custom precast product options.  "We've never had a job that we couldn't handle," stated Kirk Rouse, Vice President of LCCI. This American, family-owned company demonstrates a philosophy of quality and innovation.

Leesburg Concrete Company, Incorporated is an NPCA Certified Plant, focused on meeting the needs of commercial building construction and renovation projects. Their experienced staff provides turnkey service, and it only takes one call to find the solution to your building needs. For more information visit their website at www.leesburgconcrete.com, (800) 882-4177, or KRouse@leesburgconcrete.com.
More from Optics & Photonics