Leed®-Certified Tanger Outlet Centers Benefits from Cultec System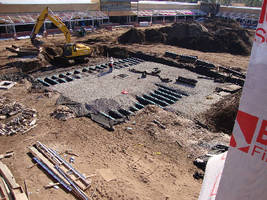 Premium Outlet Development Earns LEED Points, Garners Additional Space With Underground Stormwater Solution

BROOKFIELD, CT - When Tanger Factory Outlet Centers, Inc. (NYSE: SKT), known for its premiere outlet shopping locations, embarked on the redevelopment of its center in Bluffton, S.C., the company employed Ward Edwards, Inc. to oversee the engineering aspects of the project. Redesigning the existing stormwater management system was on top of a to-do list for the Ward Edwards engineers, who had to find a modern solution to replace a network of detention ponds constructed 20 - 30 years ago.

"There were no records to show the design of the existing stormwater system so we designed the replacement detention and water quality system to make the post-redevelopment discharge rate less than a pre-development rate," said Willy Powell, P.E. with Ward Edwards.

The 177,000-sq.-ft. center, consisting of four buildings and housing 42 brand name tenants, is located on the 20-acre site. At the front of the center, four outparcels are situated along Highway 278 off Interstate-95. The redesigned center also features about 1,000 parking spaces, so taking up land with an aboveground stormwater solution was an issue. To maximize the development area, the engineers chose an underground chamber system provided by CULTEC, Inc. As the groundwater level was high, four to five feet deep, the company's lower profile Recharger® 150 HD was considered the best fit for the site. The chamber is 33 inches wide, 18.5 inches tall and works well for installations with depth restrictions.

According to Powell, had the engineers used an aboveground stormwater system, they would have lost about 10 - 15%, or 2-3 acres, of the development area.

"The new stormwater system had to accommodate a large volume of runoff because we are located in a hurricane-prone county; we also needed to avoid increasing discharge into the adjacent wetland," said Carl Close, Project Manager with Tanger Outlet Centers. "CULTEC's system gave us the needed storage capacity and, at the same time, fit in the tight space allowed by the high water table."

Designed to handle a 25-year storm event, as required by the local regulations, CULTEC's system offers 168,958 cu. ft. of storage and operates in conjunction with two bio-retention swales, which drain the runoff into the chambers. The chamber system then discharges runoff to a wetland located to the west of the site. The high groundwater did not allow for infiltration so the open-bottom chamber system functions as a detention solution.

The system included 4,402 units of the Recharger 150 HD installed in eight beds under the parking area, which featured both impervious and pervious surfaces in a ratio of 2/1. The inlets were equipped with Trash Guard screens to ensure that debris-free runoff enters the detention system.

According to the engineer, CULTEC's system became the final solution for the project due to its ease of installation. Unlike other systems on the market, CULTEC employed its own in-line side portal manifold eliminating the need for a costly external pipe header. Such a system was easier to install than a conventional manifold system and was also more cost-effective. Additionally, CULTEC's system used less stone than other comparable systems on the market and required no heavy installation equipment.
"The system went together so easily and without the need of any specialty tools," confirmed Close.

The redesigned center is the first LEED®-certified retail location in the state, and the stormwater system contributed points to earn this recognition based on the following credits: SS Credit 6.1: Stormwater Design: Quantity Control and SS Credit 6.2: Stormwater Design: Quality Control.

For Tanger Outlet Centers, CULTEC's system was able to provide a modern solution that accommodated the site's high groundwater table and freed up space for additional parking. The center is now open to the local community and visitors who come to Bluffton to enjoy outlet shopping experience.

For more information, please call (203) 775-4416 or visit www.cultec.com.

About Tanger Factory Outlet Centers

Tanger Factory Outlet Centers, Inc., (NYSE:SKT) is a publicly-traded REIT headquartered in Greensboro, North Carolina that operates and owns, or has ownership interests in, a portfolio of 34 upscale outlet shopping centers in 22 states coast-to-coast, totaling approximately 10.3 million square feet, leased to over 2,100 stores that are operated by more than 370 different brand name companies. More than 160 million shoppers visit Tanger Outlet Centers annually. For more information on Tanger Outlet Centers, call 1-800-4-TANGER or visit our website at www.tangeroutlet.com.
About CULTEC

In 1986, CULTEC introduced its Contactor® and Recharger® HDPE septic and stormwater chambers and helped begin a revolution toward the use of plastic construction products. Since then, several product developments and strategic alliances have made CULTEC a cutting-edge R&D-based manufacturer. CULTEC chambers can be used as subsurface retention or detention systems and as replacements for ponds, concrete structures or pipe and stone installations.

CULTEC manufactures nine different chamber sizes ranging from 8.5" - 32" to accommodate almost any site parameter. The chambers' perforated sidewalls and fully open bottoms promote maximum infiltration capability and allow for the transfer of high volumes of water at a low velocity. The units can be installed singularly or in series in single- or multi-layer beds.

In addition, CULTEC developed its own in-line side portal manifold system, which eliminates the need for a conventional pipe header system, and water quality unit for maintaining CULTEC chamber systems. CULTEC products meet H-25 wheel load requirements, have a 10-year warranty and are currently modeled in HydroCAD, Bentley Systems, Inc.'s PondPack®, Autodesk's Autodesk® Storm and Sanitary Analysis, and Streamline Technologies' ICPR.

CULTEC's technical staff offers free design assistance including preliminary calculations and job-specific CAD details. A free CULTEC StormGenie(TM) -- AutoCAD® Plug-In for designing CULTEC systems and a free HydroCAD CULTEC custom edition is also available from the company. In addition, CULTEC products can contribute to the U.S. Green Building Council's credits, under the LEED rating system, when the project is designed per LEED requirements.

Related