LEE LINEAR's Cost-Effective Assemblies and Systems Offer High Performance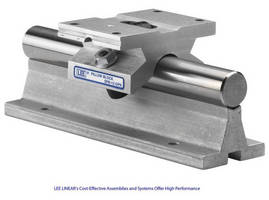 Piscataway, New Jersey - LEE LINEAR®, a manufacturer of world-class linear motion components, offers outstanding combinations of individual shafts and rail components. Their pre-engineered systems save time and money while delivering the reliable performance associated with the LEE LINEAR® name.

LEE LINEAR® offers ready-to-mount linear systems that can be easily incorporated in almost all drive control applications. U.S. manufactured aluminum shaft support rails in standard lengths of both 24″ and 48″, are used in shaft rail assemblies as economical methods for mounting case hardened and precision ground 60 Plus® or 440C shafting. The assemblies conform to industry specifications and provide stable and highly efficient linear motion guidance for continuous or intermittent load operations.

Shaft and rail systems are available in six standard configurations, which incorporate a single, double, or twin pillow block. Either two cast steel support blocks or an aluminum rail can support the carriage plate. The patented LEE Roller Bearing Pillow Block provides for self-alignment capabilities, easier clearance adjustment, and better corrosion resistance with longer life expectations and operations at higher speeds. Systems are available with either the Roller Bearing Pillow Blocks or with Precision Plus self-aligning linear ball bearing pillow blocks.

'Optimizing a system to obtain a maximum economic advantage can be challenging,' said LEE's CEO, Alan Haveson. 'LEE's shaft rail assemblies and systems provide cost-effective solutions. With our larger rolling diameter pillow blocks, we are able to provide smooth and consistent operations even at high speeds.'

LEE LINEAR® is a U.S. manufacturer of precision linear motion components, including LEE LINEAR® Roller Bearing Pillow Blocks, 60 Plus®, C1060, 440C and 300 Stainless Steel, Chromed Precision Case Hardened Shafting, Pre-Drilled and Tapped Shafting, Pre-Drilled Shaft Supports, Slide Tables and Systems. The company also manufactures such accessory items as Carriage Locks, Carriage Plates, Ball Screws, and more!

In addition to the quality products noted above, LEE LINEAR® is an exclusive supplier of SBC Profile Linear Guides, SBC Cross Roller Guides, SBC Cross Roller Tables, SBC Support Units, as well as WON-ST and KBS Precision Linear Ball Bearings.

To learn more about the advantages provided by LEE, please contact a LEE LINEAR® distributor or visit us online at www.leelinear.com.

More from Packaging Products & Equipment