LEE LINEAR® Maintains Inventory - What You Need is in Stock!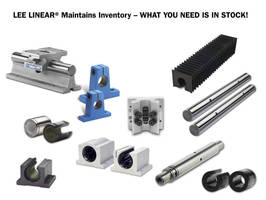 March 23, 2009

Piscataway, New Jersey -- LEE LINEAR®, a manufacturer of world-class linear motion components, has a complete inventory of linear motion components in stock and available for immediate delivery. LEE is committed to ensuring their customers will get the part they need when they want it!

The Company understands keeping costs low is important to all of us in this challenging economy. A single part can slow, or even shut down production. By keeping products in stock, LEE customers are guaranteed immediate shipment to reduce or eliminate downtime.

When an inquiry reaches LEE by phone, fax, e-mail, or through the "Contact Us" form on the company website www.leelinear.com, it is handled immediately. Orders are entered into the system as soon as they are received. Whether the order is for a product in stock or custom manufactured, LEE eliminates any source of delay. This allows for a streamlined ordering process to ensure rapid delivery of materials.

"Ours is an extensive inventory of shafting products including 60 Plus® and Ready Shafts(TM), shaft supports, linear ball bearings, and accessories," offers James Ashworth, Company Vice-President. "Keeping products in stock and ready for Just-in-Time (JIT) delivery is another VALUE-ADDED SERVICE LEE LINEAR® provides". Large inventory, excellent quality, proven technical service, and competitive pricing combine to make LEE an outstanding source for any linear motion component requirement.

LEE is a U.S. manufacturer of precision linear motion components, including LEE LINEAR® Roller Bearing Pillow Blocks, Precision Linear Ball and Composite Bearings and Pillow Blocks, 60 Plus®, C1060, and 440C Stainless Steel Precision Case Hardened Shafting, Pre-Drilled and Tapped Shafting, Pre-Drilled Shaft Supports, Slide Tables and Systems. The company also offers such accessory items as Carriage Locks, Carriage Plates, Ball Screws, and more!

As the authorized, stocking U.S. agent for SBC LINEAR COMPANY, LEE LINEAR® is proud to offer the entire SBC product line which includes Precision Profile Linear Guides, Precision Rolled Ball Screws, Cross Roller Guides, Cross Roller Tables, and Support Units.

To learn more about the advantages offered by LEE please contact your LEE LINEAR® distributor or visit online at www.leelinear.com.

More from Fluid & Gas Flow Equipment