LED Weapon Light adds illumination and 1 oz to Glock 42/43.
Press Release Summary: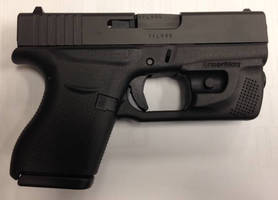 Designed specifically to sit on G42/G43 single-stack 9 mm pistol, CF-G42-LC CenterFire® WeaponLight outputs 115+ lm to provide tactical advantage needed for threat verification and accurate shot placement in challenging/dark conditions. Construction is of Fiberglass Reinforced Nylon (FRN), and performance features include 1 hr continuous run time, disorienting strobe mode option, and 10 min auto timeout function. Latter helps extend battery life.
---
Original Press Release:
New LaserMax CenterFire WeaponLight Fits Glock 43
The CF-G42-LC sits perfectly at home on the all-new G43

(Rochester, NY) - Officially announced by the Austrian firearm giant only today, the new Glock 43 single-stack 9mm pistol is sure to be a hit with firearm enthusiasts the world over. Staying ahead of the curve with popular pistol production, LaserMax® is poised to serve this influx of new pistol owners with its high performance CenterFire® WeaponLight.

Launched at the recent SHOT Show in January, the CF-G42-LC boasts 115+ lumens of brilliant illumination, providing the tactical advantage needed for threat verification and accurate shot placement under the toughest, darkest conditions.

Constructed of durable Fiberglass Reinforced Nylon (FRN), the CenterFire WeaponLight adds little weight or bulk to the Glock 42 and 43 while still maintaining the ruggedness and reliability that has defined the LaserMax brand for over a quarter century. Advanced performance features include a solid hour of continuous run time, a disorienting strobe mode option and battery boosting 10-minute auto timeout function. Available now through LaserMax's dealer network, the CF-G42-LC retails for $149 and is protected by a best in class 5-year warranty.

Complete information on LaserMax products is available at lasermax.com or by phone at (800) 527-3703. For the latest LaserMax news, follow LaserMax on Instagram, Twitter, Facebook, Gun District and YouTube.

About LaserMax
Now in its 26th year, LaserMax is a leading innovator of premium laser systems with a growing portfolio of significant patents. Specializing in the design and manufacture of rugged and innovative firearm sighting solutions for military, law enforcement and commercial markets worldwide, the company also delivers premium laser products and optical systems for the semiconductor, aerospace, biomedical and telecommunications industries. LaserMax is an ISO 9001:2008 certified and WOSB 8(m) certified Women-Owned Small Business and was recently recognized as one of the fastest growing companies in the U.S. by Inc. 500 | 5000.

MEDIA CONTACT
Joseph D'Ambrosia
Marketing & Training Coordinator
585.272.5420 x382
jdambrosia@lasermax.com
More from Food Processing & Preparation