LED Video Wall Monitor features ultra slim bezel.
Press Release Summary: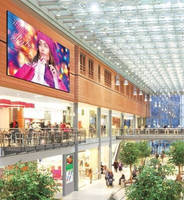 Featuring 3.5 mm bezel-to-bezel width, 55 in. class PN-V550 Professional Video Wall Display includes Uniform Color Calibration Technology, which delivers out-of-the-box pixel to pixel color uniformity between multiple video wall monitors. Unit combines full HD 1,920 x 1,080 pixel resolution with display brightness up to 500 cd/m². Four monitors set up in 2 x 2 configuration will display every pixel of native 4K Ultra HD content on equivalent of 110 in. Class screen.
---
Original Press Release:

Sharp Expands Its 55" Class, Ultra-Slim Bezel Professional Video Wall Monitor Lineup



Lighter, More Energy Efficient Video Wall Platform Features the Industry's Only Factory Calibration Process that Delivers Out-of-the-Box Pixel to Pixel Color Uniformity



MAHWAH, N.J., – Sharp Imaging and Information Company of America (SIICA), a division of Sharp Electronics Corporation (SEC), expands its PN-V video wall series with the launch of its second 55" Class (54.6" diagonal) PN-V550 LED Ultra-Slim Bezel professional monitor. With a bezel-to-bezel width of just 3.5mm and up to 500 cd/m2 brightness, the PN-V550 display is nearly 40 percent lighter and 40 percent more energy efficient than the Sharp 60" Class PN-V600A Professional Video Wall Display, and features Sharp's Uniform Color Calibration Technology (UCCT).



UCCT is the industry's only factory calibration process that delivers out-of-the box pixel to pixel color uniformity between multiple video wall monitors--encompassing chromatic intensity, luminance, and hue.



How Sharp's UCCT Ensures Uniformity of Color and Brightness



1. A 3D "pixel to pixel" MURA correction is performed on the factory production line using SHARP UCCT software (Uniform Color Calibration Technology). Using the very accurate L*ab methodology, all chromatic, luminance and hue values are calculated to remove any MURA impurity from the entire display screen area achieving a consistent uniformity of white and all colors, across each display from screen edge to center and between all displays across the entire video wall.

2. This advanced MURA correction process is eventually saved onto a unique combination of separate Look Up Tables (LUT) on board every PN-V550 display, (i.e. known as "hardware calibration"), permanently saving and applying all correction data to obtain a consistent and uniform color rendering across each display from screen edge to center, and between all displays across the entire video wall, regardless of any input signal the display is fed from.

3. In addition to UCCT MURA correction, Sharp's factory calibration process adjusts the white point and colors to a pre-defined common temperature target across each display from screen edge to center, and between all displays across the entire video wall.



"Recognizing the difficulty installers face performing color calibration with video wall displays, Sharp is proud to launch a new 55" Class video wall platform offering incredible out-of-box color and brightness uniformity," said Mike Marusic, senior vice president, Marketing, Operations, and Services, Sharp Imaging and Information Company of America. "With UCCT, Sharp has taken the guesswork out of laborious and time consuming software calibrations, ensuring a superb picture every time."



The PN-V550 monitor combines full HD (1,920 x 1,080-pixel) resolution with a display brightness of up to 500 cd/m2 to deliver stunningly bright and detailed images. Additionally, four PN-V550 monitors set up in a 2 x 2 configuration will enable users to display every pixel of native 4K Ultra HD (3,840 x 2,160-pixel) content on the equivalent of a 110" Class screen.



In multi-monitor configurations, optional Mirror Bezel Frames help minimize visible lines between PN-V550 monitors by reflecting mirror images of the display content. This creates more dynamic video walls and an even smoother big-picture effect. In addition, a remote control sensor box is available so all of the monitors in a video wall configuration can be conveniently operated through one remote control.



Built solid, the PN-V550 monitor is ideal for retail, transport hubs, command and control, corporate lobbies/meeting rooms and for other demanding professional applications that require 24/7 round-the-clock operation. It is available for Project Registration Pricing, and comes with a limited on-site commercial three-year warranty.



The 55" PN-V550 professional monitor will be available to ship in March.



About Sharp Imaging and Information Company of America

Through U.S. B2B sales channels, Sharp is one of the top selling brands of Large Format Displays (55"+) and is the #1 selling brand of Large Format Commercial Displays (55"+) integrated with touch technology*. Sharp's professional and commercial displays are specially engineered for business applications and are offered in a wide range of sizes and varying capabilities. From high-impact displays for digital signage, to state-of-the-art ultra-narrow bezel video walls, to the award-winning AQUOS BOARD® interactive display systems, Sharp commercial and professional displays help you communicate, collaborate and disseminate information brilliantly. For more information, visit our website at siica.sharpusa.com.



*According to the Monthly Large Format Commercial Displays Report by DisplaySearch (now part of IHS), February 2016.



Become a fan of SIICA on Facebook, follow us on Twitter and LinkedIn and watch us on YouTube.



Web Site: http://siica.sharpusa.com

More from Material Processing