LED Vehicle Lights combine bright illumination, 9-180 W draw.
Press Release Summary: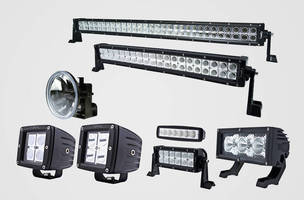 Deliver cool-white lighting for on- and off-road vehicle applications, Optilux® LED lights are built for durability and extended performance. Products include Optilux 4 in. LED Fog Lamp Kit, Optilux Cube 4 LED Driving/Flood Lamp Kit, Optilux Cube 4 LED Spot Lamp Kit, Optilux 6 in. MINI Light Bar 6 LED, Optilux 7 in. Modular Light Bar 3XL LED, Optilux Light Bar 12 LED Light Bar, Optilux Light Bar 40 LED Light Bar, and Optilux Light Bar 60 LED Light Bar.
---
Original Press Release:
HELLA Introduces New OPTILUX® LED Lighting Series
– Offers wide variety of light bars, fog and driving lamp kits

Peachtree City, GA — HELLA, Inc., the North American aftermarket subsidiary of automotive lighting and electronics supplier HELLA, has introduced a new line of Optilux LED lights, which delivers powerful LED lighting technology and applications on a wide range of both on road and off road vehicles. The new LED line is designed to deliver powerful, cool-white lighting at very low power requirements and is built for durability and long lasting performance.

The new HELLA Optilux LED Series includes:

Optilux 4 in. LED Fog Lamp Kit:  High-intensity LED circular lamp drawing only 9 W.
Creates a high-intensity fog beam and the cool white color to increase visibility in all driving conditions. Features easy installation and adjustable aluminum bracket. This SAE compliant lamp fits in 4 in. front-end cavities or on top of bumpers or light bars/push bars. Overall dimensions: 4" W x 4" H x 3.5" D.

Optilux Cube 4 LED Driving/Flood Lamp Kit: Four high-intensity LEDs drawing only 16 W. Creates a flood beam that delivers a homogeneous light pattern. Overall dimensions are: 3.2" W x 2.9" H x 3.2" D.

Optilux Cube 4 LED Spot Lamp Kit: Four high-intensity LEDs drawing only 16 W. Small and compact design. Creates a spot beam that delivers a homogeneous light pattern. Overall dimensions: 3.2" W x 2.9" H x 3.2" D.

Optilux 6 in. MINI Light Bar 6 LED: Six high-intensity LEDs drawing only 18 W. Creates a driving beam pattern and cool white color to increase visibility in the far distance. Overall dimensions: 6.3" W x 1.8" H x 2.5" D.

Optilux 7 in. Modular Light Bar 3XL LED: Three extra-large, high-intensity LEDs drawing only 30 W. More modules can be added through mounting bolts on either side and on top to create a desired width and height. Overall dimensions: 7.1" W x 3.0" H x 3.2" D.

Optilux Light Bar 12 LED Light Bar: 12 high-intensity LEDs drawing only 36 W. Features a double flood pattern reflector that creates a modern look and great light performance. Overall dimensions: 8.2" W x 3.0" H x 3.5" D.

Optilux Light Bar 40 LED Light Bar: 40 high-intensity LEDs drawing 120 W. Features a double flood pattern reflector that creates a modern look and great light performance. Overall dimensions: 21.5" W x 3.0" H x 3.5" D.

Optilux Light Bar 60 LED Light Bar: 60 high-intensity LEDs drawing 180 W. Creates a driving beam pattern and cool white color to increase visibility in the far distance. Overall dimensions: 31.5" W x 3.0" H x 3.5" D.

New Optilux Product Catalog now available
In addition to the new range of LED, the new Optilux Product Guide 2015-2016 showcases the exceptional offerings of lighting solutions from HELLA, including, HID lamps, Halogen lamps, marine lamps, work lights, and bulbs. The entire catalog can be downloaded from www.myhellalights.com.

About HELLA, Inc.
HELLA, Inc., located in suburban Atlanta, GA, is the North American aftermarket sales and distribution headquarters for HELLA KGaA Hueck & Co.  HELLA, Inc. provides world-class aftermarket and special OE support to automotive, marine, and heavy-duty accounts in the U.S., Canada, and the Caribbean. For more information, visit www.hellausa.com.

HELLA KGaA Hueck & Co., Lippstadt: The automotive parts supplier develops and manufactures components and systems for lighting technology and electronics for the automotive industry. In addition, joint venture companies also produce complete vehicle modules, air conditioning systems and vehicle electric systems. HELLA has one of the largest aftermarket organizations in the world for automotive parts and accessories, with its own sales companies and partners in more than 100 countries.

The consolidated annual sales of the HELLA Group are around 4.4 billion euros. HELLA is one of the top 50 automotive parts suppliers in the world and one of the 100 largest industrial companies in Germany. More than 25,000 people work in 70 manufacturing facilities, production subsidiaries and joint ventures all over the world. Approximately 3,000 engineers and technicians work in research and development throughout the company group. Customers include all leading vehicle and system manufacturers, as well as the automotive parts aftermarket. For more information, visit www.hella.com.

For more information, contact:
Martin Ngwenya
HELLA, Inc
martin.ngwenya@hella.com
(877) 22-HELLA
More from Electrical Equipment & Systems