LED Tubing has approximately 50,000 hr life.
Press Release Summary: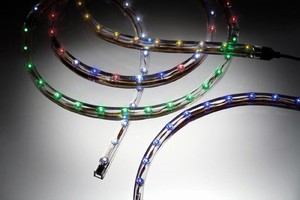 Available in blue, green, red, white, amber, and red/white/blue colors, LED tubing contains 15 bright LEDs that are encased in flexible clear encapsulate. Measuring approximately 1 ft long, up to 15 individual tubes can be connected in series and powered by one 12 Vdc power supply. Available accessories include multi-strip surface mount connector, surface mount multi-strip L connector, rotatable mounting clip, multi-strip electrical connector, and power supply adapter.
---
Original Press Release:

New Superbright LED Tubing Comes in Many Colors!



Bloomfield, NJ --- NTE Electronics, Inc. has added LED tubing to its expansive line of optoelectronic devices. These new flexible tubes come in an assortment of colors including: blue, green, red, white, amber, and red/white/blue. Each tube contains 15 super bright LEDs that are encased in a flexible clear encapsulate. Measuring approximately one foot long, up to 15 individual tubes can easily be connected in series and powered by just one 12VDC power supply.

NTE's LED tubing is easy to install and is ideal for a variety of applications:
o Interior lighting
o RVs and motor homes
o Boats
o Curio/display cabinets
o Under counter illumination
o Ceiling and cove lighting
o Aviation

The LED tubing has a long life of approximately 50,000 hours and also comes with a one-year warranty. Many convenient accessories are available such as:
o 12VDC power supply
o Multi-strip surface mount connector
o Surface mount multi-strip L connector
o Rotatable mounting clip
o Power supply adapter
o Multi-strip electrical connector.

NTE has an extensive line of optoelectronic devices. From standard discrete thru-hole LEDs and surface mount types to super bright LEDs, NTE's product line is designed to suit most every need. NTE is also a master distributor of the popular CML optoelectronic line.

For more information on NTE LED Tubing, please visit:
http://www.nteinc.com/LED_tubing/pdf/NTE_LED_Tubing_01_08.pdf

NTE remains committed to offering their customers the widest range of products with unparalleled service. The company supplies the highest quality private label relays, semiconductors, capacitors, resistors, hook-up and speaker wire, heat shrink tubing, cable ties, switches along with such well known brands as: Vishay/Spectrol-U.K., P.E.C.-Canada, KILO, Amphenol RF and Amphenol Connex, Kester, ECG®, Psiber CableTool(TM), CML-IT, Stancor, Provision(TM), Coast(TM), Plato®, Techspray® and ITW Dymon products.

For more information on NTE, visit www.nteinc.com. You'll have access to all NTE catalogs including technical specs and the extensive distributor network listings, as well as NTE's free download of the latest edition of the cross-reference software, QUICKCross(TM) - Version 13.0. For additional information, call 800-631-1250 or 973-748-5089

Contacts: Sales Dept.
NTE Electronics, Inc.
(973) 748-5089

More from Packaging Products & Equipment