LED Tube Lights work with or without ballast.
Press Release Summary: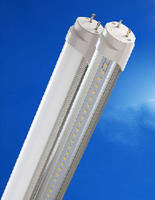 Supplied in 4 ft length in color temperatures of 4,000 and 5,000 K, LED48T8BR Series Dual Mode LED T8 Tube Lights consume 14 W (standard lumens) or 18 W (high lumens). DLC-Listed units replace fluorescents up to 32 W in Ballast-Ready mode and up to 40 W in Ballast Bypass mode. Available with input range of 100–277 Vac and operating temperature of -30 to +50°C, tubes provide instant, full-strength light-up with no buzzing or flickering and deliver even, directional distribution of light.
---
Original Press Release:
LEDtronics LED Ballast-Ready/Dual Mode Tube Lights Work with or Without a Ballast
TORRANCE, Calif., — LEDtronics® announces our brand new DLC-Listed LED T8 Ballast-Ready/Dual Mode Tube Lights! These unique "Dual Mode" tubes work with or without a ballast!

LEDtronics always recommends doing a simple, one-time ballast bypass when first installing our LED lighting in order to gain the true energy and money savings obtained from our superior quality products.

However, we understand the need for Ballast-Ready products. LEDtronics is the true Solutions Provider of the LED industry, so we have the answer with our LED48T8BR series "Dual Mode" LED T8 Tube Lights. There's no need for a ballast bypass when installing! All it takes is an easy direct retrofit into an existing 4-ft Fluorescent T8 fixture with an electronic ballast, and it's ready to go!

Adding to that, when the ballasts do go out (which they will), you can bypass the ballasts then! There's no need to purchase new ballasts!

LEDtronics DLC-Listed Dual Mode LED Tubes consume only 14 (standard lumens) or 18 watts (high lumens), and replace Fluorescents up to 32 watts in Ballast-Ready mode, and up to 40 watts in Ballast Bypass mode. They come in the common length of four feet (48 inches) and in the color temperatures Pure White (5000K) and Natural White (4000K).

These Ballast-Ready/Dual Mode Tubes are ideal for such applications as Office Lighting, Production Area/Warehouse Lighting, Coolers, Freezers & Damp Locations, Retail Store Display Lighting, Parking Garages, Transportation, Undercabinet Lighting, and General & Street Sign Backlighting!

Our LED48T8BR series LED Tube Lights have an excellent return on investment! They offer energy savings of up to 50 percent over Fluorescent, and have a Lumen Maintenance of over 70 percent at over 50,000 hours (well over five years)! On top of that, they're on the DLC list of approved products, which makes them eligible for rebates!

The tubes have instant, full-strength light-up with no buzzing or flickering and an even, directional distribution of light. While conventional fluorescent lamps typically have an ideal-condition rated lab life in the range 8,000 to 24,000 hours, our Dual Mode LED Tube Lights boast a real-world operating life of 50,000 hours and more!

They come in a Voltage Input range of 100 to 277 VAC, with a wide operating temperature range of ~-30°C to ~+50°C. Their solid-state construction renders them impervious to shock, vibration, and frequent switching. Also, unlike Fluorescent tube lights, LEDtronics LED Tube Lights emit virtually no UV or IR!

LEDtronics' DLC-Listed LED T8 Ballast-Ready/Dual Mode Tube Lights come with a 5-year U.S. factory warranty. Different Color Temperatures, lengths, and Dimmability options are available for qualified volume offers. The series is available through LEDtronics distributors, and quantity discounts are available.

About LEDtronics®
LEDtronics and its founder are responsible for creating the foundation of the LED industry, and are the pioneers of designing, manufacturing and packaging LED lighting products of unrivaled performance and value for industries and customers of all kinds, including 80 percent of Fortune 500 companies. Since 1983, Torrance, California-based LEDtronics has been the unparalleled "Problem Solver" for LED lighting solutions.

The company's vast array of products includes Tube Lights & Thin Panels, Shoeboxes, Down Lights, Post Tops, Canopy Fixtures, Bay Lights, Flood Lights, Street Lights, PAR & CFL-style Bulbs, Miniature, Panel Mount and thousands more!

For more information on how to incorporate these energy-saving DLC-Listed LED T8 Ballast-Ready/Dual Mode Tube Lights into your lighting plans, contact LEDtronics by...

Phone: 1-800-579-4875
E-mail: info@ledtronics.com
Fax: 310-534-1424
Company Address: 23105 Kashiwa Court, Torrance, CA 90505

Shaan Lodhie
Marketing Manager
LEDtronics, Inc.
(800) 579-4875 x127
http://www.ledtronics.com

For more details and technical data, visit the product family web page:
http://www.ledtronics.com/Products/products_new.aspx?category=Tube%20Lights,%20T8,%20Ballast%20Ready&sub=Y
More from Packaging Products & Equipment