LED Traffic Light features explosion proof design.
Press Release Summary: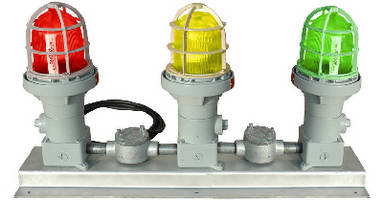 Equipped with 1 red, 1 yellow, and 1 green LED lamp, each consuming 10 W, Model EPL-TL-3X10W-C is suitable for routing traffic through refueling stations and indicating stop, running, or caution status of manufacturing machinery. Lamp housings are constructed of powder coated copper-free aluminum, and each lamp can withstand 1,490 lb psi hydrostatic pressure. USCG accepted and CSA approved, signaling fixture provides HAZLOC compliance in locations where flammable gases and vapors may be present.
---
Original Press Release:

Larson Electronics Releases Explosion Proof LED Traffic Light with Red, Yellow, and Green Lights



Leading manufacturer and distributor of industrial grade lighting equipment Larson Electronics has announced today the release of an explosion proof LED traffic light designed to provide HAZLOC compliance in locations where flammable gases and vapors may be present. The EPL-TL-3X10W-C LED Traffic Light is Class 1, 2 and 3 Division 1 approved and ideal for routing traffic in industrial refueling stations or as process status indication in manufacturing facilities.



The EPL-TL-3X10W-C LED explosion proof traffic light provides operators in industrial operations with an effective and highly durable signaling fixture that can be used in a variety of applications including routing traffic through refueling stations and indicating a stop, running, or caution status during the operation of manufacturing machinery. This LED traffic light features LED indicator lamps for high visibility and extreme reliability, explosion proof approval for use in hazardous locations, and a heavy duty design that can stand up to the rigors of industrial operations. This signal light assembly has three lamp housings, each constructed of powder coated copper free aluminum and each lamp can withstand 1,490 pounds PSI hydrostatic pressure. The mounting assembly is also constructed from heavy gauge aluminum for high strength and Larson Electronics offers the option of custom mounting assembly configurations for customer with special design requirements. Since this unit is equipped with LEDs, it has a lamp service life in excess of 50,000 hours and is far more efficient than standard incandescent traffic signals. This light can also be ordered in configurations for use with 12/24 VDC or 120-277 VAC to allow operation with low voltages or standard alternating current voltages. Lamp colors on this fixture include one each of red, yellow, and green indicators, and each lamp is protected by a rigid cage and PYREX globe guard for excellent durability. Each LED lamp consumes 10 watts and produces brighter and more powerful output than standard 100 watt incandescent signal lamps while running far cooler. Each lamp has its own lead, allowing operators to independently control each lamp, and rugged sealed junction boxes between each fixture provide secure protection for wiring. The  EPL-TL-3X10W-C LED traffic light is Class 1 & 2 Division 1 approved, suitable for wet and marine environments, USCG accepted and CSA approved, and ideal for use in industrial locations where reliable signaling control and safe operation in areas where flammable gases and vapors are present is critical.



"The EPL-TL-3X10W LED explosion proof traffic light is UL Class 1 Division 1 rated." said Rob Bresnahan with Larson Electronics' LarsonElectronics.com. "The bright red, yellow, and green LED lights can be used for process control or traffic direction in hazardous location areas."



Larson Electronics produces a full range of industrial and commercial lighting equipment, LED work lights, industrial grade explosion proof lighting, and intrinsically safe LED work lights. To view the entire Larson Electronics line of industrial grade lighting solutions, visit them on the web at Larsonelectronics.com. You can also call 1-800-369-6671 to learn more about all of Larson Electronics' lighting products or call 1-214-616-6180 for international inquires.



Website: http://www.larsonelectronics.com

Youtube: http://www.youtube.com/user/magnalightdotcom

Facebook: https://www.facebook.com/LarsonElectronicsMagnalight

Twitter: https://twitter.com/LEMagnalight

Linked In: http://www.linkedin.com/company/magnalight

Pinterest: http://pinterest.com/lemagnalight/







More from Materials