LED Track Lighting Luminaires offer ±90° rotation and tilt.
Press Release Summary: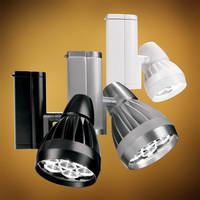 Providing color quality of 85 CRI, Halo Stasis LED fixtures are available in Small (8 W) and Medium (18 W) sizes, with Spot (8°), Narrow Flood (25°) and Flood (40°) beam distributions, and 3,000 or 4,000 K color temperatures. Adjustable arm employs 15° graduations for precise tilt aiming, while indicator mark on arm bottom assures lamp housing alignment with track. Featuring die-cast aluminum construction in white, black, or aluminum haze finish, fixtures include integral on/off switch.
---
Original Press Release:

Cooper Lighting Adds LED Track Luminaires to Popular Halo Stasis Line



Stylish energy-saving low wattage architectural track lighting solutions

PEACHTREE CITY, Ga. - Cooper Lighting, a division of Cooper Industries plc (NYSE: CBE), has added new LED track lighting luminaires to the Halo Stasis series offering energy-efficient lighting solutions for retail, hospitality, commercial and high-end residential applications. Available in two sizes (Small and Medium), three optical distributions (Spot, Narrow Flood and Flood) and two color temperatures (3000 K and 4000 K), the LED fixtures contain no mercury content and produce no harmful UV light.

The Halo Stasis LED luminaires provide excellent color quality (85 CRI) and mirror the size of the PAR20 and PAR30 fixtures. The PAR20-sized fixture (Small) with three LEDs consumes only 8 watts, with an equivalent intensity of a 50W PAR halogen lamp. The PAR30-sized fixture (Medium) with seven LEDs consumes 18 watts, providing the intensity of the 120W PAR halogen or 39W T4 CMH lamp.

When comparing energy savings, the Stasis LED luminaires are more efficient than traditional light sources found in track lighting applications. The 8W fixture consumes 85% less energy than a standard 50W MR16 halogen lamp and the 18W fixture consumes 80% less energy than a standard 90W PAR38 halogen lamp. Easy installation yields simple retrofit opportunities.

For use with multiple Halo track systems, the Halo Stasis LED luminaires' innovative features include an adjustable arm allowing +/- 90° for both rotation and tilt providing full aiming capabilities. The arm employs graduations every 15° for precise, repeatable tilt aiming. An indicator mark on arm bottom assures perfect lamp housing alignment with the track. Tilt and rotation can be locked in place with inconspicuous allen set screws to preserve the original lighting design intent, and an integral on-off switch allows installation without de-energizing the entire track run. The Stasis LED fixtures feature high-quality die-cast aluminum construction and boast exceptional thermal management to yield 70% lumen maintenance after 50,000 hours of operation.

The luminaires feature tight optical control with minimal spill light and multiple beam distributions including Spot (8°), Narrow Flood (25°) and Flood (40°). Finishes include White, Black and Aluminum Haze.

The Stasis LED luminaires are part of Cooper Lighting's SustainabLEDesign initiative that offers environmental and sustainable solutions that reduce carbon emissions and hazardous materials in support of an overall strategy to improve the environment.

For more information on the Halo Stasis LED luminaires or other Halo LED lighting solutions, email talktous@cooperindustries.com or visit www.cooperlighting.com.

About Cooper Lighting

Cooper Lighting, a subsidiary of Cooper Industries plc (NYSE: CBE), is the leading provider of innovative, high quality interior and exterior lighting fixtures and related products to worldwide commercial, industrial, retail, institutional, residential and utility markets. As lighting technologies have advanced over the years, Cooper Lighting has been at the forefront of the industry in helping businesses and communities leverage the latest technologies to improve efficiency, reduce costs and enrich the quality of the environment. For more information, visit www.cooperlighting.com.

About Cooper Industries

Cooper Industries plc (NYSE: CBE) is a global manufacturer with 2008 revenues of $6.5 billion, approximately 88% of which are from electrical products. Founded in 1833, Cooper's sustained level of success is attributable to a constant focus on innovation, evolving business practices while maintaining the highest ethical standards, and meeting customer needs. The Company has eight operating divisions with leading market share positions and world-class products and brands including: Bussmann electrical and electronic fuses; Crouse-Hinds and CEAG explosion-proof electrical equipment; Halo and Metalux lighting fixtures; and Kyle and McGraw-Edison power systems products. With this broad range of products, Cooper is uniquely positioned for several long-term growth trends including the global infrastructure build-out, the need to improve the reliability and productivity of the electric grid, the demand for higher energy-efficient products and the need for improved electrical safety. In 2008, sixty-one percent of total sales were to customers in the industrial and utility end-markets and thirty-seven percent of total sales were to customers outside the United States. Cooper has manufacturing facilities in 23 countries as of 2008. For more information, visit the website at www.cooperindustries.com.

Related