LED System serves interior general-lighting applications.
Press Release Summary: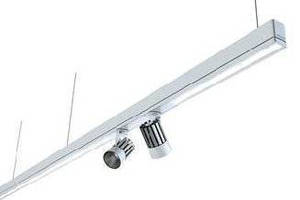 LED light-line trunking system can combine general lighting with optional and adjustable accent lighting from Skadi LED spotlights. ClickFast™ system facilitates installation of lighting modules, and recessed ceiling option is available. Trunks, which come in 4, 8, and 12 ft lengths to satisfy stand-alone installations or extended-length runs, may be configured into square, rectangular, or cross patterns. Lighting modules come in various lumen ratings, distributions, and CCTs.
---
Original Press Release:

Nordeon Introduces Baldur: An Innovative LED Light-Line System For Commercial, Retail, Industrial Applications



New Product Introduction:  Baldur — Uniquely configurable LED light-line "trunking" system combines general lighting with optional, adjustable light accenting for interiors.



Manufacturer:  Nordeon USA, subsidiary of Nordeon Group



Product Applications:  The flexibility of the Baldur system satisfies a wide range of interior general-lighting applications. Retail applications especially benefit from this product's ability to combine general illumination with accent lighting from a single platform, when incorporating optional Skadi LED spotlights.  Baldur is suitable for supermarkets, libraries, warehouses, clean manufacturing, laboratories and offices.



Product Description:  Baldur combines slender architectural design with optimal lighting flexibility, through choices of light distributions, system configurations and mounting options.  A unique ClickFast™ system allows easy installation of lighting modules once the Trunking system is configured and installed.   The addition of optional LED spotlights is unique, and a recessed ceiling option completes the product range.  Baldur is engineered to provide a 100% payback time of two years or less, compared to conventional interior non-LED solutions.



Trunking units form the backbone of the Baldur system. All luminaire modules and cover plates can be snapped into the Trunk using the ClickFast™ system.  Trunks are available in 4-, 8-, and 12-ft. lengths, to satisfy stand-alone installations or extended-length runs.  Trunking systems may be configured into square, rectangular or cross patterns, tailored to any commercial, institutional, retail interior space.  Multiple Trunks are connected with couplers automatically included for simplified ordering.



Lighting modules may be mounted along 2-ft. increments within the Trunk, are available in a wide range of lumen packages, light distributions, color temperatures and product finishes.  Its lighting modules generate 125 delivered lumens per watt.



SKADI modules are equipped with a choice of 1 or 2 LED spotlights per module for accent lighting.  Light heads are available in two sizes, with lumen packages up to 3000 lumens.  A choice of beam spreads and color temperatures expand options.  LEDs have a color rendering index greater than 90 to satisfy the stringent demands of retail and display applications. Luminaires are finished to match Trunking units and associated system components.



A wide variety of accessories such as cover plates, occupancy sensors, emergency options and mounting brackets complete the system.  The entire Baldur range is designed in Germany and assembled in the USA for the North American market, and is CSA Listed for interior applications.



Ordering Information:  Literature and specifications for Baldur, or other high-performance indoor lighting products, are available by contacting authorized Nordeon USA independent lighting sales representatives at www.nordeon-usa.com. Or contact Nordeon USA, P.O. Box 28, Gaffney, SC 29342.  Telephone: (864) 487-3535.  Fax:  (864) 487-3175.  Email:  info@nordeon-usa.com.  Visit Nordeon USA on line at:  www.nordeon-usa.com.

More from Cleaning Products & Equipment