LED Streetlights meet IES street lighting standards.
Press Release Summary: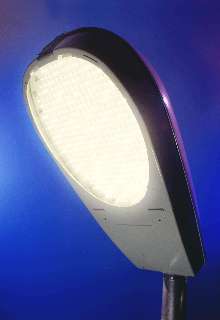 Series M400 CobraHead-Styled LED Streetlights shine light at ground level, eliminating unwanted glare, light trespass, energy waste, and sky glow. Containing 400 Warm Incandescent-White LEDs, cluster lamps draw 19 W, emit 3,200 K, and offer over 100,000 hr of life. Type 1 lamps have to be hardwired into cobra head fixtures, while Type 2 lamps feature male 39 mm mogul bases that screw into socket of fixture. Standard voltage is 120 Vac.
---
Original Press Release:

M400 CobraHead-Styled LED Streetlight Will Have You Seeing Stars


TORRANCE, CA-February 6, 2004-Doing its bit to aid the worldwide Dark Skies initiative, LEDtronics introduces direct incandescent replacement M400 CobraHead-Styled LED Streetlights. These new streetlights eliminate the unwanted glare, light trespass, energy waste and sky glow that accompany traditional incandescent streetlamps. An estimated 30% of outdoor light generated in the U.S. goes into space, flooding the skies and creating electric haze that reduces stargazing. LED Streetlights shine light in the direction where it is needed - at ground level - reducing the amount of light that is lost to the sky and improving overall nighttime viewing. The LED Streetlights meet IES street lighting standards. (Test results may be downloaded from the LEDtronics website: ledtronics.com)

The LED cluster lamp contains 400 Warm Incandescent-White (3200K) LEDs arranged in a light optimizing design. Architects, urban planners and lighting professionals will find that the 3200K White LEDs emit a pleasing warm incandescent-white light and have a diode life of over 100,000 hours that makes them excellent replacements for standard incandescent lighting along minor roads, pedestrian walkways, in parking lots and for maintenance-intensive and ornamental lighting applications. This LED Streetlight lamp with its 19-Watt power draw and high-intensity light output make it ideal for use with alternative energy systems like solar and wind power. Using LED lamps with renewable energy sources helps to reduce the reliance on fossil fuels.

When purchased independently of the housing, the lamp is available in both Type 1 and Type 2 styles. Type 1 lamps have to be hardwired into the cobra head fixtures. The Type 2 lamps feature male 39mm mogul bases that screw into the socket of the fixture. The LED Streetlamp may be purchased as a retrofit lamp for existing installations' old style cobra head fixtures or as an integrated part of a complete assembly that includes the housing and lens. LEDtronics offers a die-cast aluminum MSCL M400 Luminaire CobraHead-Styled fixture with an electrocoat gray finish, universal two-bolt slipfit joint, adjustable mogul E39 standard base socket (house side), and a flat glass lens. Standard voltage for the LED Streetlight is 120VAC; other voltages available are 12V, 24V, 28V and 240V. Optional LED colors are red, green, orange, yellow, cool white and blue.

Light Emitting Diode (LED) technology with its inherent energy efficiency makes an excellent accompaniment to photovoltaic-based energy systems. Solid-state design renders LEDs impervious to electrical and mechanical shock, vibration, frequent switching and environmental extremes. With an average life span of 100,000-plus hours (11 years), LEDs operate reliably year after year and are virtually maintenance free.

Founded in 1983, LEDtronics leads where others only follow when it comes to designing, manufacturing and packaging state-of-the-art LEDs to meet the world's constantly changing lighting needs. Our inventive product line encompasses an array of direct incandescent lamp replacement Based LED Lamps, low-cost snap-in and relampable Panel Mount LED Lamps and holders, high intensity sunlight-visible Discrete LEDs, PCB LEDs circuit board status indicators, surface mount diodes SMT LEDs, full-spectrum rainbow RGB LEDs and Infra-Red (IR) LEDs.

The M400 CobraHead-Styled Streetlight is priced at $410.00 for the LED lamp and $725.00 for the complete assembly. Ask for datasheet #151a. For additional information, contact LEDtronics toll free at 1-800-579-4875, telephone 310-534-1505, fax at 310-534-1424 or mail at LEDtronics Inc., 23105 Kashiwa Court, Torrance, CA 90505. Visit our website at ledtronics.com.

Data sheet URL address is: http://www.netdisty.net/DS/SLT002/default.asp

For Technical Information Contact:
Jordon Papanier at 310-534-1505
E-Mail: jpapanier@ledtronics.com


More from Packaging Products & Equipment