LED Solar Security Light for Railroad Switchyard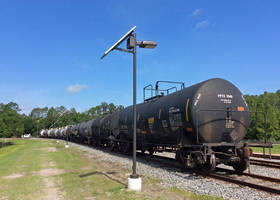 SEPCO has been working with a rail company to provide lighting along the railroad switchyard. The LED solar security light systems are installed along the railroad switchyard to provide additional security for workers in the area. The lights were more economical as the existing floodlights were too far off to provide adequate lighting and trenching under the existing tracks and other structures was not cost effective.
These lights operate all night and use adaptive lighting technology to reduce the solar requirements. These systems feature the SEPA135-M (now the SEPA150-M) with a 25 Watt LED Cimarron fixture. The SolarCimarron systems have been installed in many locations along the railroad switchyards and provide plenty of lighting for workers for safety and security.
These same types of lights are now being installed along the rails to trails projects all over the country. More information about the Rails to Trails project can be found online at http://www.railstotrails.org. The Rails to Trails is a system of biking or walking pathways along our country's railroads that connect communities and allow for a healthier lifestyle.
Other types of spot lighting can be used for higher intensity needs along a railroad switchyard, specifically for switches themselves. Using systems that have the FL1 or ARF flood fixture can be used to provide an area of high-intensity lighting for these areas.
As shown above, LED solar security lighting systems can be installed for a range of applications and be set specifically for each type of project. From general area lighting, trail lighting, or high-intensity spotlighting, these systems easily adapt to each project specific and solar allows for customization and installation in remote areas without disturbing the surrounding area.
More from Architectural & Civil Engineering Products