LED Ring Light provides no-shadow illumination for microscopes.
Press Release Summary: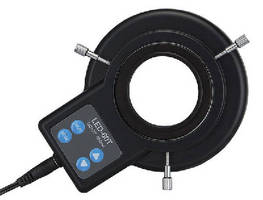 Combining 7 brightness choices and 4 lighting modes, White LED Ring Light utilizes 60 flicker-free LEDs that retain color integrity, providing illumination for life science labs, industrial inspection, and materials analysis. Full mode operation uses all evenly distributed LEDs at 35,000 lux, or users can illuminate 1, 2, or 3 quadrants. With 40 mm ID and 70 mm OD, plug-in accessory allows working distance of 50-160 mm when installed below microscope lens.
---
Original Press Release:

White LED Ring Light from Aven Improves Visibility for Any Microscope



ANN ARBOR, MI - A versatile microscope accessory allows pinpoint illumination control at varied intensity levels. The White LED Ring Light from Aven, Inc. combines seven brightness choices with four lighting modes for customized adaptation to any specimen or objective.

Sixty long-lasting LEDs provide soft, no-shadow illumination for life science labs, industrial inspection and materials analysis. The flicker-free white lights retain color integrity over time and operate at low temperature to minimize user discomfort, even for long spans.

"Full" mode operation uses all of the evenly distributed LEDs (35,000 lux), or users can illuminate one, two or three quadrants. Seven brightness settings add further precision.

"This energy-efficient Ring Light, designed for use with any standard microscope, offers a broad range of instant adjustments," says Mike Shahpurwala, president of Aven, a global supplier of optical instruments. "Engineers, researchers or technicians can assure optimal visibility with fingertip ease."

Applications include biotechnology research, health care lab work, forensics, gemology and failure or defect analysis of small parts.

Installing the Aven Ring Light below a microscope lens allows a working distance of 50 to 160 mm. The plug-in accessory has a 40 mm inner diameter and 70 mm outer diameter.

For more information or to receive a catalog, call Aven at (734) 973-0099. A digital catalog is at www.aveninc.com.

Aven, Inc. manufactures and distributes high-performance precision tools and optical systems for industrial, scientific, research and education applications. More than 750 products include video inspection systems, integrated portable microscopes, video borescopes, task lights, stainless steel tools for lab use and precision hand tools such as tweezers, pliers, cutters, screwdrivers, crimpers, knives and alignment tools. Brands include Mighty Scope, iLoupe, iVue, Accu-Cut and Athlet.

More from Transportation Industry Products