LED Ring Light offers built-in dimming controls.
Press Release Summary: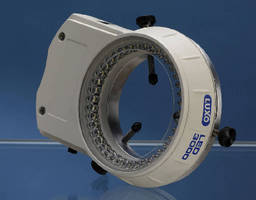 Used with binocular and trinocular microscope systems, Model LED-3000 is suited for inspection of surface cracks and defects as well as lead-free inspection. Unit features removable/replaceable diffuser cover and 40 individual pure-white LEDs that draw 9 W of energy while producing up to 3,600 fc at 4.5 in. working distance. Color temperature of 6,000°K combined with 50,000 hour lumen maintenance makes LED-3000 suitable replacement for 150 W fiber optic illuminators.
---
Original Press Release:

Luxo's New Led-3000 Ring Light Is Priced for Value



New Product: LED-3000 Ring Light for use with Binocular and Trinocular microscope systems.

Product Description: Luxo's new LED-3000 Ring Light combines energy-efficient LEDs, exceptional lumen maintenance, built-in dimming controls and a removable/replaceable diffuser cover, all at an incomparable value.

Product Applications: LED-3000, for use with an extensive range of microscope systems, is well-suited for the inspection of surface cracks and defects as well as for lead-free inspection. Pure-white LED light eases the examination of welds, solder joints, flux residues and hairline stress cracks.

Construction & Finishes: LED-3000 maximizes light output and distribution while preventing harmful glare and reflections. Its 40 individual pure-white LEDs draw only 9 watts of energy while producing up to 3600 footcandles at 4.5 in. working distance. A color temperature of 6000°K, combined with 50,000 hour lumen maintenance (lamp life), makes the LED-3000 an energy-efficient and cost-effective replacement for traditional 150W Fiber Optic Illuminators.

Luxo's LED-3000 includes self-contained on/off and dimming controls eliminating the need for an external controller. This new ring light is dimmable to 15% output, making it ideal for use with digital applications such as with Luxo's new System 373 Trinocular Microscopes. A removable and replaceable diffuser cover allows for easy cleaning and protects the LED array from damage and contamination.

LED-3000 joins Luxo's growing line of LED Ring Lights which currently includes the standard LED Ring Light, the Dimmable LED Ring Light and the Dimmable LED-High Output Ring Light. Each of Luxo's four LED Ring Lights, including the LED-3000, are protected under Luxo's 5-year warranty.

Ordering Information: Literature, specifications and pricing for the LED-3000 Ring Light (Model #LED-3000) is available from Luxo, Five Westchester Plaza, Elmsford, New York 10523. Telephone: (914) 345-0067. Fax: (914) 345-0068. Visit Luxo at: www.luxous.com.

Luxo is a worldwide pioneer in multi-adjustable, spring-balanced task lights, illuminated magnifiers and microscope systems, since 1934.