LED Retrofit Kits replace recessed ceiling downlights.
Press Release Summary: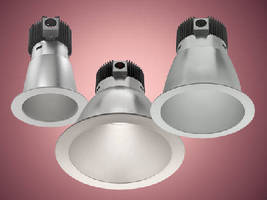 Operating from 100–277 Vac, RDL36 Series can directly replace 100–250 W old-technology CFL, halogen, and metal-halide downlights while using only 21, 25, 41, or 42 W. UL-Listed, chip-on-board kits come in choice of 3,000 K, 4,000 K, or 5,000 K and can be retrofitted into existing 4, 6, 7, and 8 in. housings/trims. Units provide medium beam of 40° and CRI surpassing 83. Made with aluminum alloy heatsink and housing, lights have  0–10 V dimmability and luminosity from 1,145–3,515 lm.
---
Original Press Release:
New Dimmable, UL-Listed LED Retrofit Kits for Direct Replacement of Existing Recessed Ceiling Downlights
Torrance, Calif., – LEDtronics® Inc. announces its latest series of UL-Listed, dimmable, chip-on-board (COB) LED Recessed Ceiling Downlight Retrofit Kits. They directly replace 100 to 250-watt old-technology CFL, halogen and metal-halide downlights while using only 21, 25, 41 or 42 watts—a reduction of energy consumption of up to 75 percent!

The new Downlight Kits come in various sizes and Kelvin temperatures, able to be retrofitted into existing 4, 6, 7 and 8-inch housings/trims, each available in a choice of Warm White (3000K), Natural White (4000K) or Pure White (5000K).

They are ideally suited for a wide variety of indoor applications, such as ceiling installations for general ambient lighting in offices, commercial spaces and public facilities, retail store lighting, museums, galleries, showrooms, hotels, hospitality areas, hospitals, clinics, workrooms, as well as corridors, lobbies and stairways.

This RDL36 series of Retrofit Kits operate on a wide voltage range of 100-277VAC, providing a medium beam of 40 degrees and a color rendering index surpassing 83. The lights have 0-10V dimmability and luminosity ranging from 1145 lumens (4 inch, 20W, 3000K) to 3515 lumens (8 inch, 42W, 5000K).

The series of long-lasting, solid-state, seismically-restrained downlights are easily installed using the hardware included in each retrofit kit. They are solidly constructed with durable aluminum-alloy heatsink and housing, and have a wide operating temperature range of 14°F to ~+113°F. These indoor-use Downlight Retrofit Kits prove impervious to shock, vibration, frequent switching and environmental extremes. Since they create much less heat compared to halogen or metal halide lights, they reduce air conditioning demands in interior installations.

These ROHS-compliant, UL-Listed LED downlights contain no harmful gases or toxic elements like mercury. Unlike traditional CFL, halogen or metal halide units, LEDs emit little to no ultraviolet or infrared light or radio emissions. Since these lights are much more energy efficient than old-technology downlights, they are perfect for operating with an alternative or renewable energy resource such as solar or wind power in cold or warm environments.

The LEDtronics RDL36 series of LED Recessed Ceiling Downlight Retrofit Kits come with a 5-year LEDtronics warranty. The series is available through LEDtronics distributors, and quantity discounts are available to qualified distributors.

For additional information on how to incorporate these economical, energy-saving LED Downlight Retrofit Kits into your facility lighting plans or architectural designs, contact LEDtronics by...

Phone: 1-800-579-4875
E-mail: info@ledtronics.com
Fax: 310-534-1424
Postal mail: LEDtronics, Inc., 23105 Kashiwa Court, Torrance, CA 90505

About LEDtronics®
Since 1983, Torrance, California-based LEDtronics Inc. has been a world leader in designing, manufacturing and packaging high-quality, state-of-the-art LED lighting products for industries and customers of all kinds, including 80 percent of the Fortune 500. The company's vast array of products includes LED Tube Lights, Downlights, Post Tops, Canopy Fixtures, Flood Lights, Street Lights, Bay Lights, Indicator Lights, and thousands more. Directly replace your old-technology lighting with energy-efficient LED lights from the industry pioneers, LEDtronics.
More from Electrical Equipment & Systems