LED Panel Lights produce 24 cm2 of smooth illumination.
Press Release Summary: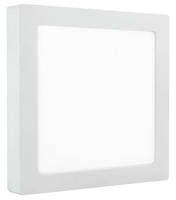 Consuming 17.3 W, surface-mountable GL-PL24-SM smoothly produces up to 1,600 lm of uniform LED light over entire 24 cm square panel. One-piece, die-cast aluminum, SMT design supports mounting to ceilings and walls, and rod pendant mount allows light to be lowered from ceiling. Available in Warm White (3,000K), Neutral White (4,000K), or Cool White (5,700K), RoHS-compliant light comes in non-dimmable, 3-in-1 dimmable, and DC input variants. Packaged LED driver minimizes exterior wiring.
---
Original Press Release:

GlacialLight's New Panel Lights Produce 24 Square Centimeters of Smooth Light - GL-PL24-SM



Taipei, Taiwan — GlacialLight, the lighting division of GlacialTech Inc., announces a new 24cm square panel light offering up to 1600 lumens of energy efficient LED light in a compact package - GL-PL24-SM. Consuming only 17.3W, the GL-PL24-SM produces bright, uniform lighting over the entire lighting panel in an easy to install surface mount format. The GL-PL24-SM comes in 3 color temperatures and dimming is available.



Better Light

Compared to the uneven, flickering light from fluorescent tube lighting, the GL-PL24-SM creates a much smoother, uniform illumination that is more pleasant to the eye. Light is created across the entire 24 square LED panel creating a smoother illumination ideal for indoor lighting applications. The GL-PL24-SM comes in either Warm White (3000K), Neutral White (4000K), or Cool White (5700K) color temperatures.



Easy to Install

A one piece surface mount design makes this panel light easy to install as a replacement or supplement to existing lighting. Made of die-cast aluminum, the GL-PL24-SM is sturdy yet light enough to be wall-mounted. The compact 24cm square dimension fits a variety of modern interiors and the packaged LED driver mean exterior wiring is kept to a minimum. A rod pendant mount allows the light to be lowered from the ceiling, giving an additional installation option.



Energy Saving

At only 17.3 watts of energy usage, the GL-PL24-SM efficiently produces up to 1600 lumens of light, making it ideal as a modular lighting solution for kitchens, restaurants, cafes, or other indoor environments. The GL-PL24-SM is RoHS compliant, contains no mercury and emits not harmful UV or IR rays. 3-in-1 dimming capability allows the light to be lowered as needed and for additional energy savings.



Features:

One piece, easy installation.

Can be mounted on nearly any surface: wall or ceiling.

Die-cast aluminum construction - light and sturdy.

Color temperatures 3000K/4000K/5700K available.

Optional rod pendant mount.

3 different models under this series: non-dimmable, 3-in-1 dimmable, and DC input.



Specifications

GL-PL24-SM (non-dimmable)







Type



GL-PL24-SM-WW



GL-PL24-SM-NW



GL-PL24-SM-CW





Energy Used



17.3W





Rated Life



30,000 Hours





Input Voltage



100-240V AC





Power Factor (PF)



0.89 at 120V AC, 0.81at 240V AC





CCT (color)



3000K



4000K



5700K





Luminuous Flux



1400 lm



1550 lm



1600 lm





System Efficacy



81 lm/W



90 lm/W



92 lm/W





CRI (Minimum)



80



80



80





Beam Angle



110°





Dimension



240 x 240 x 40 mm





IP Rating



IP20





Operation Temperature



-20°C ~ +40°C





Bundled Driver



GP-HS15P-22C1
(Driver Output : Constant Current 700mA, 14~24V)





Net Weight



1.0 Kg (with driver)





Package



10 Boxes / Carton







GL-PL24DA-SM (DC dimmable : 1-10V/PWM/Resistor)







Type



GL-PL24DA-SM-WW



GL-PL24DA-SM-NW



GL-PL24DA-SM-CW





Energy Used



17.3W





Rated Life



30,000 Hours





Input Voltage



100-240V AC





Power Factor (PF)



0.89 at 120V AC, 0.81at 240V AC without dimmer





CCT (color)



3000K



4000K



5700K





Luminuous Flux



1400 lm



1550 lm



1600 lm





System Efficacy



81 lm/W



90 lm/W



92 lm/W





CRI (Minimum)



80



80



80





Beam Angle



110°





Dimension



240 x 240 x 40 mm





IP Rating



IP20





Operation Temperature



-20°C ~ +40°C





Bundled Driver



GP-HS15P-24CA (for 1-10V/PWM/Resistor)
(Driver Output : Constant Current 700mA, 24V)





Net Weight



1.0 Kg (with driver)





Package



10 Boxes / Carton







GL-PL24LD-SM (DC input)







Type



GL-PL24LD-SM-WW



GL-PL24LD-SM-NW



GL-PL24LD-SM-CW





Energy Used



17.3W





Rated Life



30,000 Hours





Input Voltage



11-15V DC / 22-30V DC





Power Factor (PF)



0.89 at 120V AC, 0.81at 240V AC





CCT (color)



3000K



4000K



5700K





Luminuous Flux



1400 lm



1550 lm



1600 lm





System Efficacy



81 lm/W



90 lm/W



92 lm/W





CRI (Minimum)



80



80



80





Beam Angle



110°





Dimension



240 x 240 x 40 mm





IP Rating



IP20





Operation Temperature



-20°C ~ +40°C





Bundled Driver



GP-LD15-24C
(Driver Output : Constant Current 700mA, 25V)





Net Weight



950 g (with driver)





Package



10 Boxes / Carton







Read more about this new product please visit at GlacialLight's website: http://www.glaciallight.com/products/panellight.htm



About GlacialLight

GlacialLight, the lighting division of GlacialTech, manufactures LED lighting solutions for indoor/outdoor applications and both residential and commercial uses. As well as having a wide range of finished LED lighting products, GlacialLight also offers its clients the option of customizing products for specific needs. Please visit the company homepage at www.GlacialLight.com

More from Construction Equipment and Supplies