LED Modules offer 2,000 and 3,000 lumen output options.
Press Release Summary: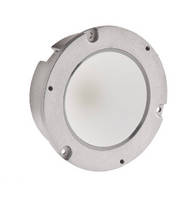 Featuring TrueWhite® Technology, which maintains color consistency over rated lifetime of product, LMH2 Series delivers 82 lm/W system efficacy combined with CRI greater than 90 in all available color temperatures of 2,700, 3,000, 3,500, and 4,000 K. Modules separate light source and power supply to enable wide selection of mounting and wiring options. Available with Digital Addressable Lighting Interface and DALI touch dimming, LEDs offer 50,000 hours of operation and are dimmable to 5%.
---
Original Press Release:

Cree Extends Leadership with Introduction of Brightest LMH2 LED Modules



New Cree® Module Performance Obsoletes the Need for Compact Fluorescents in Commercial Lighting

DURHAM, N.C.-- LED lighting leader Cree, Inc. (Nasdaq: CREE), extends the high-performance LMH2 module family with new 2000 and 3000 lumen output options, delivering better performance, longer lifetime and lower system cost than comparable compact fluorescents in commercial lighting. The LMH2 module family now enables a wider range of lighting applications within a compact, cost-effective design.

The LMH2 is the industry's only LED module family delivering 82 lumens-per-watt system efficacy combined with a CRI greater than 90 in all available color temperatures. The LMH2 LED features Cree TrueWhite® Technology - a revolutionary way to generate white light with LEDs. Cree TrueWhite Technology delivers high efficiency with beautiful light characteristics, while maintaining color consistency over the rated lifetime of the product. The LMH2 module family is available in a range of lumen, color temperature and driver options, enabling lighting manufacturers to meet their needs quickly and easily.

"With its high lumen output and superior combination of high efficacy and high CRI, the new Cree LMH2 LED module enables us to address the commercial lighting market," said Antonio Di Gangi, General Manager of DGA. "The compact, two-piece design of the LMH2 gives us the flexibility needed for rapid LED luminaire design and development."

The LMH2 module separates the light source and power supply to enable a wide selection of mounting and wiring options - giving lighting manufacturers the flexibility needed for rapid LED luminaire design and development. LMH2 modules also feature primary thermal management - potentially eliminating the need for costly secondary thermal management systems.

"The LMH2 LED module family now obsoletes the need to even consider compact fluorescent alternatives," said Mike Watson, Cree senior director marketing, LED components. "Not only does the family of LMH2 LED modules outperform this traditional lighting technology, but it does so across a wide range of color and lumen options with unparalleled color quality, efficacy and warranty, enabling lighting manufacturers to address an entire range of lighting applications."

LMH2 modules deliver 82 lumens-per-watt system efficacy combined with 90+ CRI in color temperatures of 2700 K, 3000 K, 3500 K and 4000 K. The module is available with Digital Addressable Lighting Interface (DALI) and DALI touch dimming. Designed for 50,000 hours of operation and dimmable to five percent, the LMH2 comes with Cree's industry-leading warranty. Luminaire makers seeking ENERGY STAR® qualification will have access to specification and performance data, including LM-80 reports, which can speed regulatory approvals.

Visit Cree at Light+Building 2012 at Hall 4.2, Stand G71 to see the LMH2 module used in different applications. Samples are available now and production quantities are available with standard lead times from Cree distributors. Visit DGA at Light+Building at Hall 3.1, Stand C41, to see DGA luminaires based on the LMH2 family. For additional information visit: www.cree.com/products/modules_lmh2.asp

About Cree

Cree is leading the LED lighting revolution and making energy-wasting traditional lighting technologies obsolete through the use of energy-efficient, mercury-free LED lighting. Cree is a market-leading innovator of lighting-class LEDs, LED lighting, and semiconductor products for power and radio frequency (RF) applications.

Cree's product families include LED fixtures and bulbs, blue and green LED chips, high-brightness LEDs, lighting-class power LEDs, power-switching devices and RF devices. Cree products are driving improvements in applications such as general illumination, backlighting, electronic signs and signals, power suppliers and solar inverters.

For additional product and company information, please refer to www.cree.com. To learn more about the LED Lighting Revolution, please visit www.creeledrevolution.com.

Cree® and Cree TrueWhite® are registered trademarks of Cree, Inc.

ENERGY STAR® is a registered trademark of the U.S. Environmental Protection Agency.

Contacts

Cree, Inc.

Michelle Murray, 919-407-5505

Corporate Communications

michelle_murray@cree.com

More from Material Handling & Storage