LED Machine Vision Lights accommodate variety of applications.
Press Release Summary: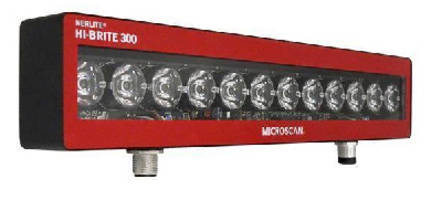 Available in multiple sizes and color wavelengths, NERLITE® HI-BRITE Lights utilize 10° spot and 50° flood lenses, enabling use at near and far distances. Units operate in continuous or strobe mode and feature integrated controller that adjusts light intensity from ultra bright to low light. Equipped with M12 connectors, lights have industrial IP67 rating for protection against dust, fibers, and immersion in liquid. Up to 4 HI-BRITE lights can be daisy chained on one power supply.
---
Original Press Release:

Microscan Debuts NERLITE® HI-BRITE Machine Vision Lighting Series with Brightest LED Illumination



RENTON, WA, - Microscan, a global technology leader for track and trace solutions, introduces the newest product release in the NERLITE® machine vision line, further demonstrating the company's commitment to investment in a leading edge machine vision lighting portfolio.

New NERLITE® HI-BRITE machine vision lights include the brightest LED illumination in their class, providing superior illumination over large areas in applications such as package sorting, food processing and packaging, automotive or aerospace assembly, or any large surface inspection. For example, in a machine vision application inspecting automotive engine components, more illumination may be needed or the light may need to be placed further away (suspended above head level, pinch zones, etc.). HI-BRITE lights allow the intensity to be increased and focused to provide illumination to the part, even at a distance.

Versatile options, such as multiple sizes and color wavelengths, 10° spot and 50° flood lenses, provide the flexibility to be used at both near and far distances to accommodate a variety of applications. For ease of use, HI-BRITE lights feature an integrated controller to quickly adjust light intensity from ultra bright to low light, and operate in continuous or strobe mode. Additionally, the HI-BRITE series feature standard industrial M12 connectors, and an industrial IP67 rating for protection against dust, fibers and immersion in liquid. Up to four HI-BRITE lights can be connected (daisy chained) on one power supply and, like all NERLITE® products, the 24 V power standard matches most industrial factory settings.

The HI-BRITE provides numerous benefits to users over existing machine vision lights:

o Cost savings: With the HI-BRITE internal controller, there is no need to buy extra equipment

o Easier to use: Quick-connect up to four lights on one power supply for daisy chain applications

o Flexibility: Range of sizes and wavelengths, low to ultra bright intensity, continuous or strobe modes

o Reliability: Designed with long-life LEDs for reliable, long-term performance

As part of the NERLITE® product line, the HI-BRITE series joins a broad machine vision lighting technology portfolio of approximately 300 standard lights, as well as custom designs for unique applications. NERLITE® lights are 100 percent LED-based and offer the advantages of fast response, long life, multiple wavelengths and high-intensity capability. NERLITE® machine vision lighting is designed for reliability in industrial applications.

NERLITE® is a pioneer brand in machine vision lighting and has an excellent reputation in the industry for reliable, high-quality machine vision illumination. Microscan recognizes the importance of lighting in successful machine vision applications and will continue to innovate and invest in this technology. Microscan provides a complimentary three-year warranty on machine vision lighting products.

Visit HUMicroscan's Online Community to see videos of the NERLITE® lighting in action. For more detailed information about HI-BRITE lights, visit HUmicroscan.comUH

About Microscan

Microscan is a global leader in technology for precision data acquisition and control solutions serving a wide range of automation and OEM applications. Founded in 1982, Microscan has a strong history of technology innovation that includes the invention of the first laser diode barcode scanner and the 2D symbology, Data Matrix. Today, Microscan remains a technology leader in automatic identification and machine vision with extensive solutions for ID tracking, traceability and inspection ranging from basic barcode reading up to complex machine vision inspection, identification, and measurement.

As an ISO 9001:2008 certified company recognized for quality leadership in the U.S., Microscan is known and trusted by customers worldwide as a provider of quality, high precision products. Microscan is a Spectris company.

More from Communication Systems & Equipment