LED Luminaires target Class I, Div 1 hazardous environments.
Press Release Summary: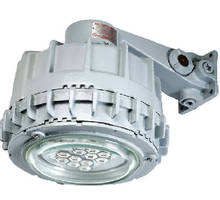 Featuring explosion proof design, Code-Master™ LED Luminaires are suited for oil refineries, chemical processing plants, and other hazardous locations. Units deliver 110 lm/W and accept input ranges of 120–277 Vac and 347–480 Vac without step-down transformer. Supplied in copper-free aluminum housing with baked epoxy powder coat finish, luminaires offer instant-on performance and lifetime of 60,000+ hours. Mounting options include pendant, ceiling, wall bracket, and 25° stanchion.
---
Original Press Release:

Appleton Introduces LED Luminaire for Oil Refineries, Chemical Processing and Other Hazardous Industrial Locations



New Code-Master™ LED Offers Ease-of-Specification, Energy Efficiency



ROSEMONT, IL, -- Specifying LED lighting in oil refineries, chemical processing plants and other hazardous locations is a difficult process, one that is complicated by the presence of ignitible vapors and dusts. To simplify specification, Appleton has introduced its new line of Code-Master (TM) LED explosion-proof luminaires engineered for Class I, Division 1 hazardous environments and offering the industry's widest range of lumen outputs and mounting options.



"It may be a simple-to-specify design, but the Code-Master LED certainly doesn't compromise on performance," said Christine Hohlman, Lighting Marketing Manager for Appleton. "In addition to its energy saving abilities, it also has a service life ten times longer than HID or other incandescent sources available in the market, ultimately resulting in lower operating costs, a more comfortable working space, and greater overall productivity."



Appleton Code-Master LED luminaires improve energy efficiency in any harsh, corrosive or hazardous industrial location, delivering an impressive 110 lumens per watt or nearly twice the efficacy of competing luminaires. They are ideal for both new construction and in retrofit applications where the versatile housing will thread into the existing mounting hoods of the original Appleton Code-Master HID with no need for rewiring or changing mounting locations. Upgrades from competing luminaires are also possible thanks to the Code-Master LED accepting input ranges of 120-277 Vac and 347-480 Vac without a step-down transformer. Replacing existing HID fixtures with the Code-Master LED can reduce energy consumption up to 55 percent.



Like all Appleton LED products, the Code-Master LED minimizes end-user maintenance requirements. It generates 60,000+ hours of safe, dependable lighting, greatly reducing the frequency of relamping as well as the cost of part replacement and maintenance. In the unlikely event of failure, components can be replaced in the field using simple hand tools.



In addition, the Code-Master LED features a heavy duty copper-free aluminum housing with a baked epoxy powder coat finish for extreme durability in highly corrosive environments. Instant-on performance supplies consistent, naturally colored light with no warm-up time, restrike issues or end of life cycling; this is especially beneficial in locations where lights are often turned off and on.



Appleton Code-Master LED luminaires are available in a broad assortment of designs equivalent to HID lamps from 70 to 400 Watts. The low profile and optional diffused glass globe ensures adequate clearance and minimal glare in low ceiling applications, while the highest lumen output models provide ample lighting at mounting heights of 25 feet or higher. Mounting options include pendant, ceiling, wall bracket and 25° stanchion, all featuring the same Acme double lead threaded design to speed installations. An optional lens guard, safety chain and fuse are available for added protection. In addition, customers can download free DIALux™ software and IES files on the Appleton website, appletonelec.com, to help formulate their solution.



Appleton Code-Master LED luminaires meet NEC/CEC code requirements for Class I, Div.I, II and III, IP66/67, NEMA Type 3R and 4X for wet locations, and Marine Outside (salt water). Installing the Code-Master LED may qualify for government incentive programs and tax credits.



For more information, visit www.appletonelec.com



About Emerson

Emerson (NYSE: EMR), based in St. Louis, Missouri (USA), is a global leader in bringing technology and engineering together to provide innovative solutions for customers in industrial, commercial, and consumer markets around the world.  The company is comprised of five business segments: Process Management, Industrial Automation, Network Power, Climate Technologies, and Commercial & Residential Solutions.  Sales in fiscal 2014 were $24.5 billion.  For more information, visit Emerson.com.



About Emerson Industrial Automation

Emerson Industrial Automation (www.EmersonIndustrial.com), a business of Emerson, provides automation and power generation technologies and services to a wide range of industries. With its global capabilities and deep industry expertise, Emerson Industrial Automation is a trusted partner for products and solutions that increase machine performance, efficiency, reliability, and availability. Its industry-leading brands include Appleton®, ASCO®, Branson®, Control Techniques, Leroy-Somer®, Numatics®, O-Z/Gedney, and SolaHD™.

More from Electrical Equipment & Systems