LED Loading Dock Light outputs 1,200 lm while consuming 18 W.
Press Release Summary: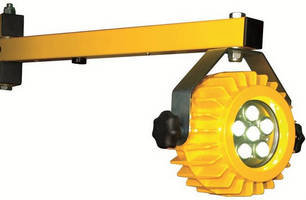 Constructed with cast aluminum head and impact-resistant polycarbonate lens, IP65-rated Dockmaster™ is resistant to damage incurred via impacts from forklift trucks, doors, and other potential hazards in warehouse environments. Dual easy-grip knobs, included, allow operator to adjust or remove light to for positioning, moving, or servicing fixture. To ensure optimal end-to-end illumination of 53 ft trailer, light features 6-LED configuration with specialized optics (reflectors).
---
Original Press Release:

Halogen Lighting Announces the Brightest LED Dock Light in the Americas



ELBURN, Illinois--Halogen Lighting Products Corporation announces the introduction of their Dockmaster™ LED loading dock light, which is now the current titleholder of the brightest and most reliable LED dock light in the Americas. Unlike existing incandescent and fluorescent dock lighting, there is no need to replace bulbs due to the impact resistant, long life, energy-efficient, and cost-effective properties of LED lighting.



Halogen Lighting Products' Dockmaster™, engineered and massively built from the ground up features a rugged, thick cast aluminum head, and highly impact resistant polycarbonate lens. The stout head and lens cover proves the Dockmaster™ to be of overallsolid construction. Thisassures operators that this fixture is nearly indestructible from the impact of forklift trucks, doors, and other potential hazards in a warehousing environment.Also since LED lighting has no filaments or any moving parts, there is no risk or worry of replacing broken bulbs. LEDs have an average lifespan of 10 years.



With an IP65 (waterproof) rating, both the operator and the fixture's internal circuitry are safe from electrical shock and shortage from damp and wet environments. With no glass or mercury contamination,the Dockmaster™ also offers OSHA compliance for food and beverage warehousing and manufacturing facilities. Two easy-grip knobs also come included with the Dockmaster™ LED loading dock light to allow the operator to easily adjust or remove the light to allow positioning, moving, or servicing the fixture with minimal effort and tools.



The Dockmaster™ LED loading dock light fixture's 6 LED configuration has a rated output of 1,200 dazzling lumens, literally twice the amount of competitor LED dock lights, with specialized optics (reflectors) that ensure optimal illumination of a 53' trailer from end to end. Not only does the Dockmaster™ illuminate a trailer well, it illuminates a trailer efficiently, consuming only 18 watts of electricity (6 times more efficient than a 300-watt incandescent!)



Halogen Lighting Products designs the best industrial lighting in the world, most notably renowned for their Millennium Series™, Sunfish™, and Tool Helper™ fluorescent and LED machine lighting, which provides users with the brightest light in the smallest footprint.



For pricing, availability, and technical specifications on the Dockmaster™, and other comprehensive industrial lighting solutions, visit our website at www.halogen-lighting.com. You can also call us toll-free at 1-800-HALOGEN for a free catalog and/or more information.



Contact: Halogen Lighting Products Corporation

(A woman-owned small business)

Andrew Skaper

PO Box 229

Kaneville, Illinois 60144 USA

Phone: 1-800-HALOGEN (425-6436) 1-630-557-2600

Email: andrew@halogen-lighting.com

Related